Untitled ['Five stripes'] (c.1975-6)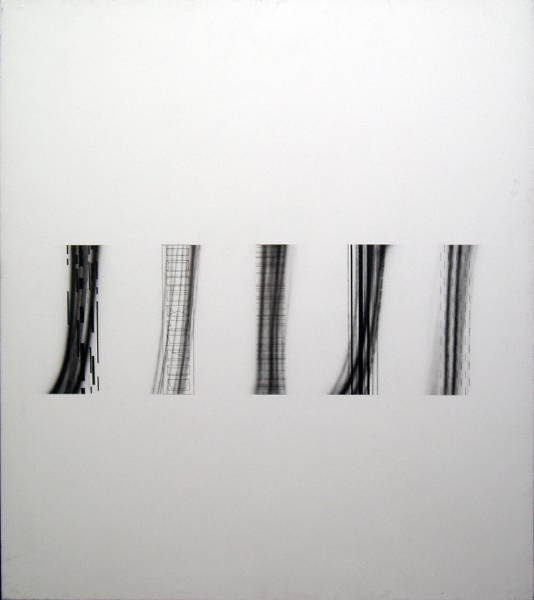 Synthetic polymer paint on canvas, 184 x 163
Private collection, Melbourne
This elegant painting was still in the artist's collection at his death. Arkley's archive slide has a process date of Jul79, but the work probably dates from the mid '70s, and may be one of the unidentified pictures from his first two Tolarno shows. Planning notes for HA Monash 1991 (copy in the artist's files) include a photo of the canvas oriented as shown here, describing it as '(Five Stripes) 1975'.
Freely sprayed vertical lines, sometimes contrasted with precisely delineated shapes, are a recurrent theme in Arkley's work between 1974 and 1976, as in Seltsamer (1975) and other canvases. A number of Arkley's 'white' works on paper from the period are also comparable: see e.g. Untitled (c.1975-6) [W/P?] (possibly a preparatory study for the present painting), and Untitled [archive slide #11] (c.1974-76) [W/P], in which similar envelope shapes appear.
Plans to include this canvas in the NGV 2006 retrospective had to be shelved because it needed cleaning (since carried out).
Provenance
artist's collection
P/C Melb.
Exhibited