Mills & Boon books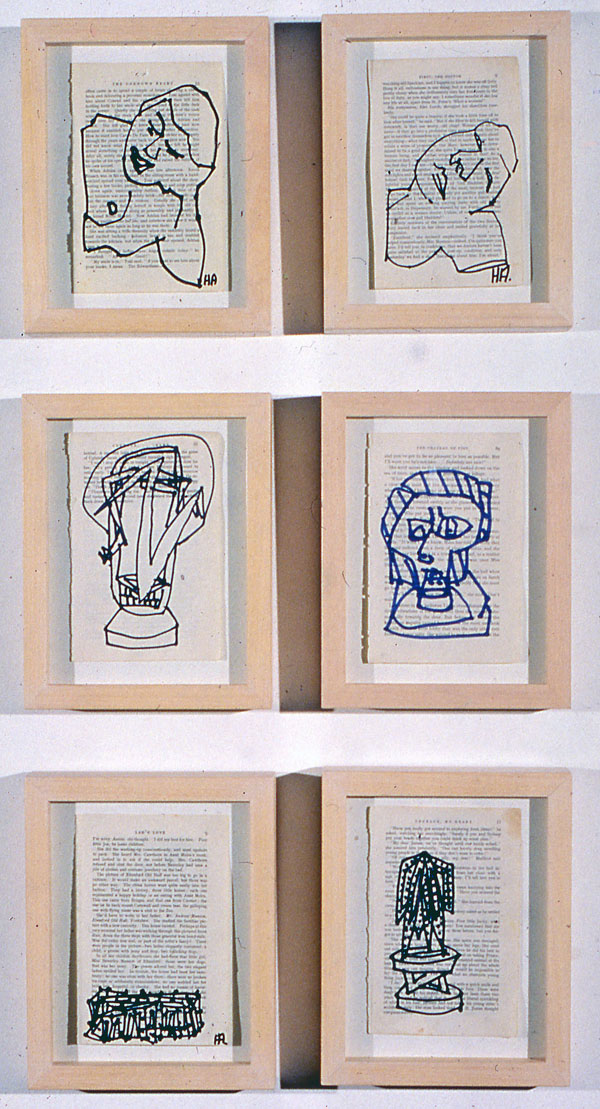 During 1984 (in particular), and for several years following, Arkley made a series of drawings in recycled copies of romantic novels originally published by Mills & Boon in the 1950s and 60s (de-accessioned by the Prahran CAE library, formerly the Prahran Mechanics' Institute, as evident from labels on the covers of several copies). Typically, the drawings were made in black fibre-tipped pen, on odd-numbered (right hand) pages, owing to the ink bleeding through onto the reverse. The compositions ranged from quick doodled cacti and abstract forms to more considered figurative images, including a number of life drawings.
Most of Arkley's drawings remain intact in the respective books – all except Courage, My Heart now held in the Arkley archive at the State Library of Victoria.
Several individual doodled pages have been removed, and a number were exhibited later, including four nudes (all from The Chateau of Fire) shown at 200 Gertrude Street in April 1986 ('Slouching Towards Bethlehem'); a few pages incorporated into the source material in Arkley's 'Casual Works' show (1988); 6 pages from various books were shown in HA Monash 1991, cat.53 (see reproduction opposite); and 8 pages from various books appeared in Arkley's 1995 'White + Black' show at Tolarno.
A comprehensive publication of Arkley's interventions in these books is in preparation. Summary details follow (books are listed in alphabetical order by title). Unless noted otherwise, Arkley drawings are in black fibre-tipped pen.
The Chateau of Fire (1984 and later)
(a) Arkley archive, State Library of Victoria, MS 14217, MS Box 4271, no. 1; (b) other collections as listed below
Original book published by Mills & Boon in 1961 (hardback; text by Pamela Kent). Arkley's drawings, some dated (from 1984 to 1988), show nudes, skulls, heads etc. The title page is inscribed 'Figurative by Howard Arkley. Began Nov. 1985…' The book, in Arkley's studio collection, is mostly intact, but some pages have been removed (see separate list below).
(a) Notable pages still in the original book include:
17, 19, 21, 57 & 61: nudes, each signed and dated 'HA 84'
25 & 29: heads in doubled line technique (see now general comments for 1985)
41: head signed and dated (in pencil) 'Howard Arkley 88'
79, 85 & 87: doodles over pasted-in photos (cf.

Sketchbooks

, no.18)
99: doodle over pasted-in photo
131: creature (reproduced in Carnival Fig.6.16)
141, 147, 149, 153 & 155: heads
151: skull
(b) Pages held and/or exhibited/reproduced elsewhere:
5,7,11 & 13 (collection unknown): related sequence of drawings of a recumbent nude woman (shown at 200 Gertrude Street, 1986; file photo of the all 4 – from Monash slide library?)
9, 23 & 43 (collection unknown): all shown in HA Tolarno 9/95 ('White + Black'), cat.27-29 (file photo of 43, a stylized nude)
15 & 67 (private collection, Melbourne), two nudes, the first one inscribed 'x with love Howard xx' and the second s+d 'HA.84' (both pages identified by the owner in an email to this website, Dec.2015, with photos)
89 (private collection): head in blue fibre-tipped pen: exhibited in HA Monash 1991, cat.53 (see photo above); also reproduced in Spray 58
Courage, My Heart (1984 and later)
(a) Collection of Tony Clark; (b) other collections as listed below
Original book published by Mills & Boon in 1959 (hardback; text by Olga Gillman). Arkley gave his copy to Clark in 1991 (see title page inscription, noted below), and apparently added his portraits of Clark and himself (pp.138-39) at the same time. Various other pages have been exhibited elsewhere: see (b) below
(a) Original book: see in particular:
Title page (including 'Prahran Mechanics' Institute' and 'cancelled' stamps) inscribed by Arkley in black fibre-tipped pen: 'To. Tony / with love / Howie 91'
138-39: facing pages containing Arkley's stylized facing portraits of Tony Clark and himself respectively (this seems to be the only true self-portrait of Arkley): exhibited in HA TarraWarra 12/15-2/16 (not listed in catalogue)
(b) Pages held and/or exhibited/reproduced elsewhere:
7: abstract composition, extant in Arkley's archive, as part of the source material shown in his 'Casual Works' exhibition 1988: see Zappo; and source material (1988 and earlier) [W/P]
9: cactoid composition (ill.: Duncan 1991: 9)
19: (subject unknown): shown in HA White + Black, Tolarno 9/95, cat.31 (no photo)
25: cactoid creature: shown in HA Monash 1991, cat.53: reproduced above, lower right
61: head, extant in Arkley's archive, as part of the source material shown in his 'Casual Works' exhibition 1988: see also

Zappo

; and source material (1988 and earlier) [W/P]

81: head (private collection): identified by the owner through an email sent to this website, Jan.2011 (photo supplied)

85: cactoid head: extant as single page in Arkley's archive [SLV MS 14217, Box 4271, no.10, with p.103]; shown in HA Monash 1991, cat.53: reproduced above, centre left
101: abstract composition, extant in Arkley's archive, part of the source material shown in his 'Casual Works' exhibition 1988: once again, see

Zappo

; and source material (1988 and earlier) [W/P]

103: head; extant as single page in Arkley archive [SLV MS 14217, Box 4271, no.10, with p.85]
First, the Doctor (1984)
Arkley archive, State Library of Victoria, MS 14217, MS Box 4271, no. 2
Original book published by Mills & Boon in 1958 (hardback; text by Anne Lorraine), extant in Arkley's studio collection, mostly intact (some pages removed). After p.63, the book is untouched; notable pages include:
5 (opening page):  recumbent nude
9: female nude: shown in HA Monash 1991, cat.53 (see photo above, top right) and also in HA White + Black, Tolarno 9/95, cat.32
53 & 55: stylized heads
61: stylized head (in grey fibre-tipped pen)
Forest Hospital (1984?)
Arkley archive, State Library of Victoria, MS 14217, MS Box 4271, no. 3

Original book published by Mills & Boon, 1964 (hardback; text by Hilda Nickson), extant in Arkley's archive, largely intact (a few pages removed). It contains an extensive series of drawings and doodles, including:
5 (opening page): head
7 and 21: skulls
25-29: three sketches of Arkley (signed 'SHP')
35: stylized head
103: dog
113: cartoon-style figure
123: box-like cactoid figure (reproduced in Gregory 2002 [Mercedes magazine])
Glorious Haven (1984)
Arkley archive, State Library of Victoria, MS 14217, MS Box 4271, no. 4

Original book published by Mills & Boon in 1958 (hardback; text by Bethea Creese); extant in Arkley's studio collection, largely intact (a few pages removed). It contains an extensive series of doodled cacti, skulls and other forms; the example on p.81 is dated 1984. Significant pages include:
53: cacti
65: creature
81: cacti (signed and dated 'HA 84'; loose page, still in the book)
83 & 85: cacti (both signed 'HA'; both loose pages, still in the book)
91, 93 & 101: skull and crossbones compositions (the photo in Carnival, Fig.6.31, shows p.93 with p.92, the verso of 91)
111, 119, 151, 161 & 169-73: cacti
183 & 185: skull and crossbones compositions
Lad's Love (c.1984-88)
Arkley archive, State Library of Victoria, MS 14217, MS Box 4271, no. 5

Mills & Boon book published in 1960 (hardback; text by Jill Christian); extant in Arkley's archive, largely intact (a few pages have been removed). It contains a number of small drawings, mostly abstract doodles, sometimes marginal to the text. Most of the book seems to date from 1984, but p.133 is dated 1988. Significant pages include:
7 (opening page): marginal doodle
9: marginal doodle at lower edge; this page, shown in HA Monash 1991, cat.53 (photo above, lower left) and in HA White + Black, Tolarno 9/95, cat.25, is no longer in the book
11 & 25: doodles
97: pair of legs (inscribed 'destroy!')
133: doodle in grey fibre-tipped pen (signed and dated 22.10.88)
143: skull
Night Duty at Duke's (1984)
Arkley archive, State Library of Victoria, MS 14217, MS Box 4271, no. 6

Original book published by Mills & Boon in 1960 (hardback; text by Bess Norton). Extant in Arkley archive, essentially intact (a few pages removed, e.g. pp.13-20). The opening section contains a series of heads, but the book is untouched after p.33; key pages include:
5 (opening page): head
7, 21, 23, 25, 27 & 29: heads
31: head/creature
33: another head
The Smoke and the Fire (1986)
Arkley archive, State Library of Victoria, MS 14217, MS Box 4271, no. 8

Original book published by Mills & Boon in 1964 (hardback; text by Essie Summers). Extant in Arkley archive, mostly intact (a few pages are missing). Inscribed by the artist inside front cover: 'Start Jan.5, 86' and 'Travelling Drawing public transport'. In this book, photographs have been inserted or pasted onto many pages, with added doodles (compare Arkley's Sketchbooks, S15, dated 1983). The book is untouched after p.101. Significant pages include:
7 (opening page of text): doodle with added black paint
21: house, again with added black paint
23: blank, but with added loose photo of vegetables, with added doodle by Arkley
25: doodled photo of man pasted in
29, 33, 41, 43, 53, 57, 63, 67, 71, 79, 83, 89, 91, 95 & 101 (doodled photos inserted: various subjects: fish, jewellery, furniture, diagrams etc.)
The Unknown Heart (1986)
Arkley archive, State Library of Victoria, MS 14217, MS Box 4271, no. 9

Mills & Boon book published in 1958 (hardback; text by Hettie Grinstead); extant in Arkley's studio collection, essentially intact. Title page annotated by the artist: 'Start May 86' and 'The Nude male female'. The opening section contains a series of drawings of nudes, heads, cacti etc. After p.47, the book is largely untouched (except for a few scribbles towards the end). Significant pages include:
5 (first page of text): female nude (ticked)
9 & 11: female figures (both with added black paint)
13: female torso
15, 17 & 19: heads and figures
21: cactoid doodle
23: female figure
27: legs
29: torso (companion to p.27?)
35 (?): female nude, exhibited in HA Monash 1991, cat.53 (see photo above, top left)
37 & 39: heads
41: cactus
47: creature
Wintersbride (c.1984)
Arkley archive, State Library of Victoria, MS 14217, MS Box 4271, no. 7

Original book published by Mills & Boon in 1961 (hardback; text by Sara Seale); extant in Arkley's archive, largely intact. After p.23, the book is untouched, but the opening section contains several detailed cactoid doodles, the one on p.13 dated 1984. Key pages include:
7: cactoid doodle
9: cactoid creature: shown in HA White + Black Tolarno 9/95, cat.30, and reproduced in Spray 58
11: cactoid form
13: crystalline composition, signed and dated 'HA.84' (exhibited in HA White + Black Tolarno 9/95, cat.26)
17: cactoid form
21: another cactoid composition, close to

Untitled ['Cacti and Succulent'] 1986 [W/P]