W Chair (Functional Objects series) (1980) [W/P]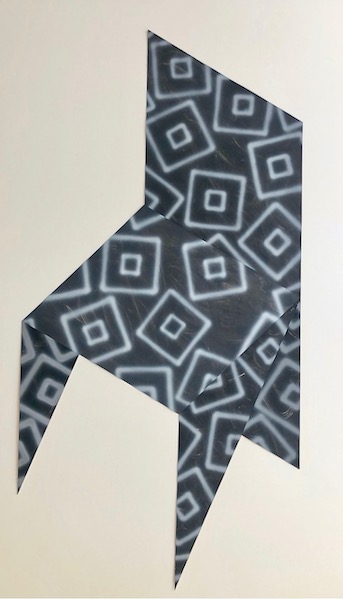 Synthetic polymer paint on card, 83 x 41.5 (irreg.)
Private collection, Melbourne
Cut to shape, this work is clearly very similar to the axonometric black chair in Four Chairs W, V, X, T 1980 [W/P] (NGA, Canberra), both works related in turn to the corresponding piece of furniture in Muzak Mural – Chair Tableau (1980-81) [3/M] (NGV, Melbourne).
It seems inherently likely that this was the work on paper shown in the 1991 Arkley survey exhibition as Isometric Chair: see details below (previously included in the present catalogue as unidentified).
On the verso are the remnants of one of the other "Functional Object" works on paper from the same period, documented by a slide in Arkley's archive, and catalogued separately here as Drawing for Tram (1980) [W/P].
Provenance
Gift from the artist, c.1982-88 (email advice, Jan./Feb.2020)
Exhibited
HA Monash 1991, cat.22: Isometric chair (SPP on paper, 83 x 41): identified here as probably the present work