'Howard Arkley and Friends' (TarraWarra Museum of Art, Dec.2015-Feb.2016)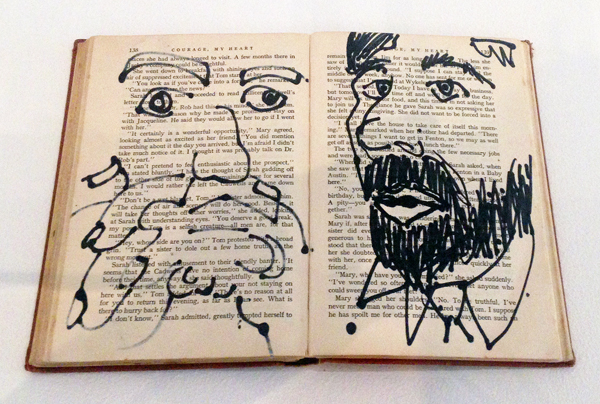 'Howard Arkley and Friends', TarraWarra Museum of Art, Healesville, 5 Dec.2015 – 28 Feb.2016

[photo: Arkley's portrait of Tony Clark and Self-Portrait, c.1991, from Courage, My Heart, Mills & Boon book (photo: TarraWarra Museum of Art)]
Just over 16 years after Arkley's death, and some 9 years after the NGV retrospective, this ambitious exhibition subtly re-shaped various perceptions of his oeuvre, making detailed and enterprising use of the Arkley archive now publicly accessible at the State Library of Victoria (see main entry for 2012), and also bringing a number of his former friends and colleagues more clearly into the picture.
A more tightly-focussed show than the NGV retrospective, this exhibition, curated by Anthony Fitzpatrick and Victoria Lynn, included several rarely-seen works, alongside familiar examples. Arkley's remarkable journey from the spare minimalism of his first 'white' period, through the intricacies of his subsequent line-work and pattern-making, to the assured, abstracted lines and sweeping planes of his late freeways, was displayed superbly in the sequence of elegant exhibition spaces at TarraWarra.
The show was launched by Tony Clark, who spoke with a rare blend of feeling and insight about his memories of Arkley, and his estimation of his achievement (for my own previous comments on Clark and Arkley's close friendship and collaborative ideas, see Carnival 140-41). Several significant Arkley works in the show came from Clark's personal collection, including Psychedelic 1979, Disco (1981) [W/P], and the original modified Mills & Boon book Courage, My Heart (previously thought lost), including what appears to be the only true self-portrait ever produced by Arkley (see reproduction above).
The valuable exhibition catalogue contains substantial essays by both curators, on Arkley and his 'friends' respectively, together with my observations on Primitive [mural] (1981) [W/P], and a wide-ranging account of Arkley's engagement with/inspiration from popular music, by Chris McAuliffe; and reproductions of all the works shown: see Fitzpatrick & Lynn (2015).
The exhibition received substantial media attention. For significant reviews and responses, see Bibliography; the Radio National interviews with the curators ("Books and Arts," presented by Michael Cathcart) and Chris McAuliffe ("The Music Show," presented by Andrew Ford) were particularly insightful.
Works shown were as follows (in chronological order, as listed in the catalogue):
(i) Works by Arkley alone
Untitled [A119] c.1974-76 [W/P]
Untitled [A124] c.1974-76 [W/P]
Untitled [A127] c.1974-76 [W/P]
Untitled [A131] c.1974-76 [W/P]
Untitled [A136] c.1974-76 [W/P]
Untitled [A139] c.1974-76 [W/P]
Actuality (Is the Void Between Events) 1976
Organic Model D (Intuitive Reason) 1976 = Organic Model (Intuitive Reason) (1976)
Organic Model F (Liquid) (1976)
Organic Model G (Black Square) 1976 = Organic Model G (Black Square) 1976 [Tolarno]
Psychedelic 1979 [previously listed in this catalogue under 1978]
Arabesque 1979 [Curvilinear] [first exhibited as Curvilinear]
Bodgie 1979
Primitive 1981 = Primitive [mural] (1981) [W/P]
Primitive Gold / Primitive Silver 1981
Untitled [Suburban study] (1982) [W/P]
Untitled [Zappo study #2] 1983 = Untitled [Zappo study] (19823) [W/P]
Untitled [Nubrick study] (c.1986) [W/P]
Untitled (The Cacti Succulents) 1986 = Untitled ['The Cacti Succulents'] 1986
Bunch of Flowers 1987 = Untitled ["Bunch of Flowers"] (1987) [W/P]
Zappo Head 1987 = Zappo Head 1987 [Bendigo]
The Bay Window 1988 = Suburb: A 1988
(Source material for Tattooed head) 1988 = Tattooed Head; and source material (1988 and earlier) [W/P]
Studies for 'Zappo' 1983-88 and Zappo 1988 = Zappo; and source material (1988 and earlier) [W/P]
Cityscape 1990 = Cityscape (1990) [large]
Cat 1991 = Untitled ['Cat'] (1991) [W/P]
Courage, My Heart: modified Mills & Boon book: NB this is the original book, previously thought lost, shown at TarraWarra as in the collection of Tony Clark, with a 1991 dedication from Arkley, and drawings of Clark and an Arkley self-portrait: see reproduction above; for full details, see Mills & Boon books (NB this book, a late addition to the exhibition, was not listed in the TarraWarra catalogue)
Family Home: Suburban Exterior (1993)
Theatrical Facade 1996 = Theatrical Facade (1996) [Canberra]
Freeway Exit 1999 = Freeway Exit (1999) [Buxton]
(ii) Collaborations
Map Book 1978 [3/M] [Howard Arkley & Elizabeth Gower]
Suburban Landscape 1987 [Howard Arkley & Christine Johnson]
Untitled 1990 [W/P] [Howard Arkley & Juan Davila]
Abstract Painting in Dark Blue and Ochre (1991-3) [Howard Arkley & John Nixon]
Untitled 1992 [W/P] [Howard Arkley & Juan Davila]
(iii) Works by "Friends"
Alison Burton: Lament 2015 (P/C Melb.)
Tony Clark: sections from Myriorama 1985-90 (P/C Melb.)
Aleks Danko: Day In Day Out (homily version) 1991 (Coll.University of Queensland)
Elizabeth Gower: Two works from the 'Shaped series' 1978-83 (courtesy of the artist and Sutton Gallery)
Christine Johnson: Tokens c.1986 (courtesy of the artist)
Geoff Lowe: Meaning and Excellence 1983 (TarraWarra Museum of Art collection)
Callum Morton: Untitled 1992-2015; Untitled 1992-2015; Untitled 1994 (all courtesy of the artist and Anna Schwartz Gallery)
John Nixon: Brown and White Cross (with Handsaw) 1990 (courtesy of the artist and Anna Schwartz Gallery)
Kathy Temin: Untitled (Bear Sleeping in Mondrian) 1990 and Untitled (Bear Sleeping in Vasarely) 1991 (both courtesy of the artist and Anna Schwartz Gallery)
Peter Tyndall: detail… Logos Ha Ha (Untitled Painting No.24) c.1975 (courtesy of Christine Johnson)
Jenny Watson: A painted page 5: The Sun Jezza will stay, Blues 1979-80 (courtesy of the artist and Anna Schwartz Gallery)
Constanze Zikos: The Collectible Chrome Icon #4 1992 (courtesy of the artist)