The Yellow Green House 1998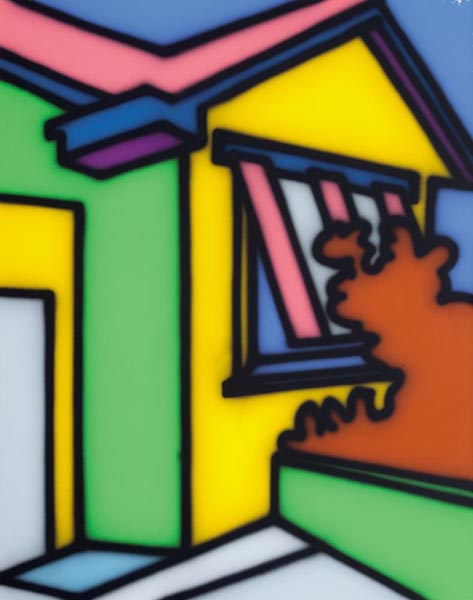 Synthetic polymer paint on canvas, 140 x 110
Signed, dated and titled [on verso: 'Name Howard ARkley / Title "The Yellow Green House" / Date 1998 / Size 110 cm x 140 cm / medium Acrylic on Canvas']
Coll.: unknown
This is a version of the familiar composition Arkley first used for Our Home (1986), and then in vertical format in Spray Veneer (1994) and several later variants, notably the relatively similar work on paper Untitled 1999 [House] [W/P], also dominated by acidic tones, as here, but with grey line-work, and green foliage.
This painting also looks close to Untitled [House #2] (1999) (known only from an archive photo). See also Colour Field Home 1999, another late canvas in similarly simplified style, and on an even smaller scale (previously known only from an archive photo; auctioned late in 2012).
The present work, identified in 2011 as part of a private collection of late Arkleys all acquired in around 1998, was auctioned in Sydney in March 2013. When viewed in Melbourne prior to the 2013 auction, the canvas showed some signs of wear, and a patch of apparent damage or alteration in the area of the yellow wall just near the bottom left-hand corner of the window.
Provenance
F.& P.Meares collection, Queensland (acquired directly from the artist, c.1998: information and ID photos, inc.detail of verso inscription, forwarded to Arkley Estate Sept.2011)
Auctioned by Menzies, Sydney, 21 March 2013, lot 27 (incorrectly titled 'The Yellow Green Room'); ill.& remaining dets.as above; est. $60-80,000; sold for $57,500 plus B/P {$70,568})