Sun Shade Home 1998 [W/P]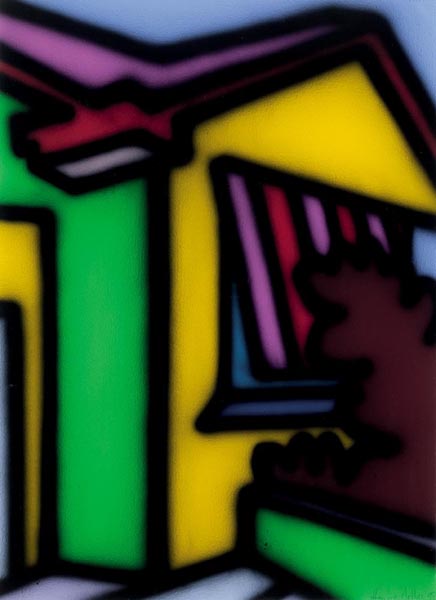 Synthetic polymer paint on paper, 75 x 55
Signed, dated and titled [s+d l.r., within image: 'Howard Arkley 98'; also sd+t on verso: 'Name Howard Arkley / Title "sun shade home" / Date 1998 / Medium Acrylic on paper / Size 760 cm x 570 cm {sic}' {photo of inscription forwarded by Menzies 2/13}]
Coll.: unknown
Another late variant of the house-and-bush composition Arkley adapted repeatedly from 1986 onwards, including two other late versions from the same Queensland collection as the present work: The Yellow Green House 1998 and Untitled ['The Sunshade Home'] 1997 [W/P].
In this particular example, the heavily sprayed black line-work, dark colouring and close cropping of the image all combine to generate an arguably ominous tone reminiscent of the earliest version, Our Home (1986).
When viewed in Melbourne prior to its auction in Sydney in March 2013, the present work showed some signs of wear.
Provenance
F.& D.Meares collection, Queensland (acquired directly from the artist, c.1998: information and ID photo supplied to Arkley Estate Sept.2011: as 'The Sunshades Home', 1998; acrylic on paper, 74 x 53 cm)
Auctioned by Menzies, Sydney, 21 March 2013, lot 84 (as 'Sun Shades Home', ill.& other dets.as above; est. $14-18,000; sold for $20,000 plus B/P {$24,545})