Indoors-Outdoors 1994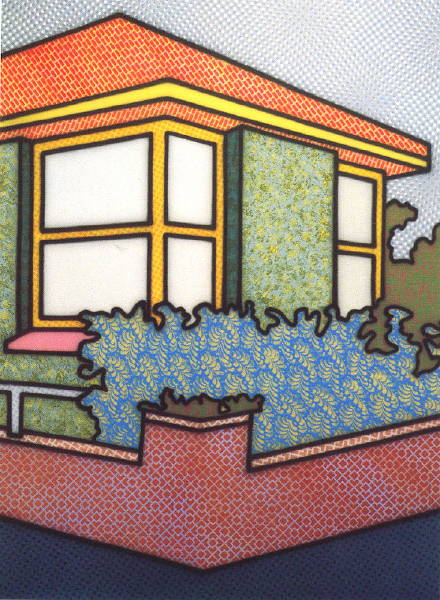 Synthetic polymer paint on canvas, 203 x 153
Signed, dated and titled [on reverse]
Private collection, Melbourne
Based on the same composition Arkley used for Hedge on Street Corner (1988) and Untitled (1988) [Hedge], this work features extensive stencilled pattern and nuanced colour – in fact, the comparison between this canvas and those earlier examples demonstrates an extraordinary evolution in his work during the intervening half dozen years.
This picture, as its title suggests, brings to mind traditional binaries like interior/exterior and nature/culture, subtly complicating them. The impression of a glow emanating from the windows of the house, implied by the contrast with the complex patterning and muted hues of the surrounding areas, is also remarkable.
On the NGVA exhibition audio-guide (2006), Ray Edgar, co-author of Spray, spoke eloquently about this work and the 'Pointillist Suburb' series, unequivocally describing them as Arkley's 'master-stroke'.
Provenance
Sold 1994 ($10,000)
Recorded in a Melbourne P/C in NGVA Arkley retrospective planning notes c.2006
Exhibited
HA Tolarno 11/94 ('Pointillist Suburb series'), cat.3 ($10,000)
HA Venice 1999 ('Home Show')
HA retrospective 2006-7 (shown in Melbourne only)
HA TarraWarra 12/15-2/16 (details as above; ill.)
Literature
Spray 112 and 114 (ill.)
Carnival 77 (not illustrated)
Edgar 2006: 46 (full-page ill.)
NGVA Arkley audio-guide 2006 (comments by Ray Edgar and Chris McAuliffe)