Cosy Clinker (1994)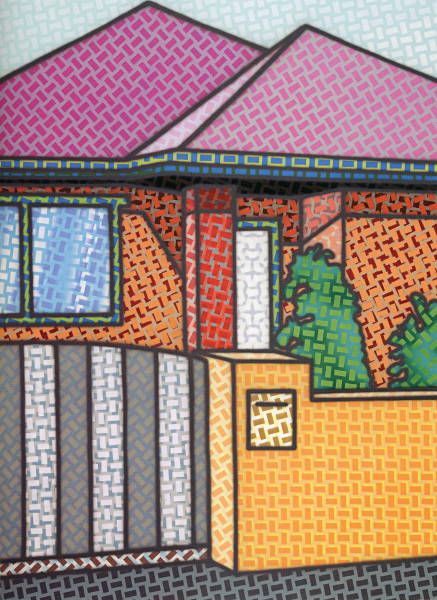 Synthetic polymer paint on canvas, 203 x 153
Coll.: unknown
The effect of overlapping patterning is complicated here by the use of dark grey line-work, and an unusual pattern suggestive of metal security doors or window grilles (see Carnival 73ff. and 108, and also my catalogue essay for the Bonhams auction catalogue in April 2008).
The green bush lurking just outside the front door – related to the similar motif in Our Home (1986) and Spray Veneer (1994) – could be seen as adding another hint of suburban paranoia, although admittedly in this case the figure does look more benign than menacing.
Arkley used this composition again for Residence with Gate 1999.
Provenance
Purchased from 1994 exh.for $10,000 (ref.HA stock-book 1993-6)
Recorded in the Melbourne collection of P.& L.Marr (Smith 1998)
Auctioned by Bonhams & Goodman, Melb., 23 April 2008 (ill.; also reproduced on front cover; est.$280-320,000; sold)
Exhibited
HA Tolarno 11/94 ('Pointillist Suburb series'), cat.9
Korea 1998 ('Unhomely')
HA retrospective 2006-7 (all 3 venues)
Literature
Smith 1998 ('Unhomely' exh.cat.), p.15 (ill.)
Carnival 108 and Fig.3.23
Gregory in Bonhams 2008 auction catalogue (cited above)