A Freeway Painting (Over Pass) 1994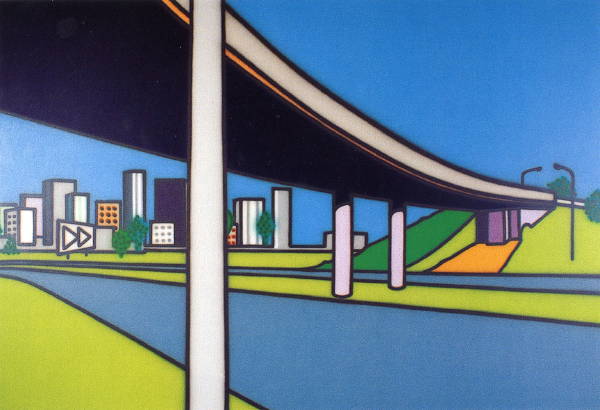 Synthetic polymer paint on canvas, 203.5 x 305
Signed, dated and titled
Private collection, Melbourne[on reverse; according to Gould 11/13]
This work and A Freeway Painting (Exit) 1994, the earliest of Arkley's freeway paintings, were shown together in his 'Pointillist Suburb' show at Tolarno in November 1994. The present work had also been shown by Tolarno at the 4th Australian Contemporary Art Fair at the Exhibition Buildings in Melbourne in Sept./Oct.1994. It was also scheduled to be included in the 1995 'Downtown' exhibition, but the loan fell through (correspondence in Arkley's files).
As I argue in Carnival, this is the first of several Arkley canvases that contradict the casual reading of his freeways as uniformly 'cold' and alienated – especially through its relatively warm and glowing colour (notably the echoing blues of road and sky), and the sweeping lines of the composition.
The main source was a photo Arkley took during a trip to Canberra in 1989, modified through the replacement of the flat rural landscape in the background by a cluster of urban towers. Various other changes were also made in a series of working drawings, preserved, with the original photo and other source material, in Arkley's archive (SLV: for reproductions of a selection of these images, see Fitzpatrick & Lynn 2015, pp.23 and 137).
In turn, Arkley adapted this composition for various freeway paintings produced between 1995 and 1999, culminating in Freeway Exit (1999) [Buxton], Freeway Exit (1999) [Lovegrove] and The Freeway (1999).
Provenance
Listed in HA's 1993-6 stock-book as sold in 1994 for $20,000
Coll.Ronnie Di Stasio, Melb. (according to Gould 11/13)
P/C Melb.
P/C Melb.
Exhibited
ACAF4, Melb., 29 Sept.-2 Oct. 1994 (Tolarno stall)
HA Tolarno 11/94 ('Pointillist Suburb series'), cat.7
HA Gould Galleries, Melb. 11/13 (ill.; details as given above)
Literature
Ehrlich 1995 (Age profile of restauranteur Ronnie Di Stasio, shown with this work)
Spray 117 (ill.)
Carnival 46 and Fig.1.32