Blue Chip Instant Decorator: a Room (1991-2) [3/M] [Howard Arkley & Juan Davila]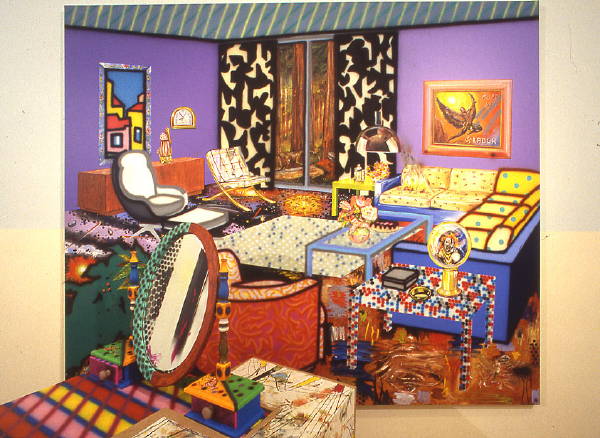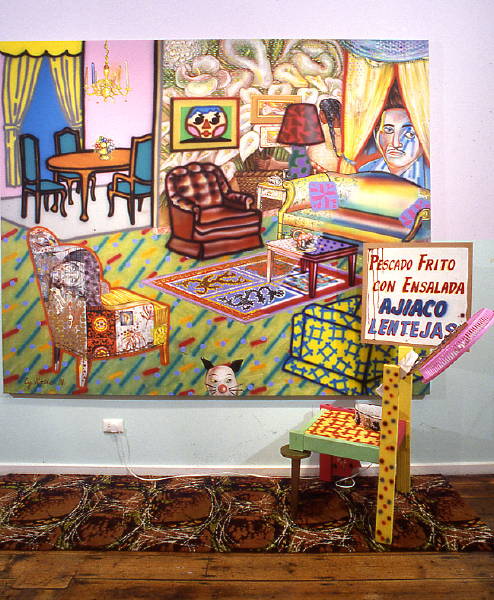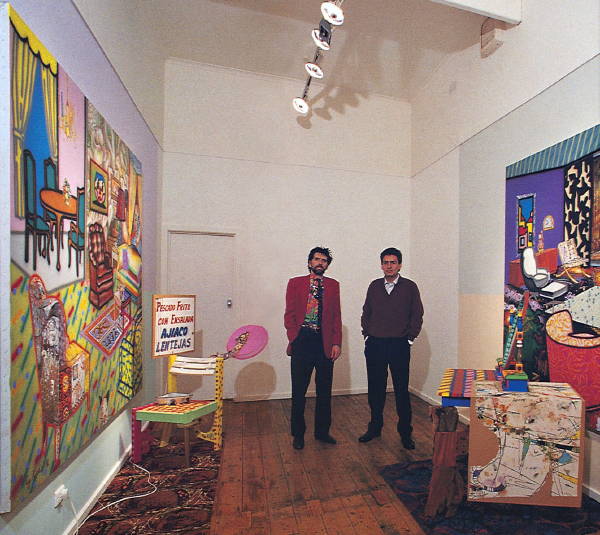 Synthetic polymer paint on two canvases (each 200 x 240), wood, glass and found objects
Benalla Art Gallery [1997.06]
This major collaborative work, first shown at Tolarno in July 1991 (as reproduced here), involves an unusually tense, even apparently antagonistic approach to artistic collaboration, later described by Davila, in a memorable phrase, as a 'pictorial battle' (as quoted in O'Connell 1996).
A key reference was Arkley's copy of the decorator manual Gold's Instant Decorator, which not only provided the main compositions for both canvases, but also obviously influenced the title of the installation. Davila's contributions included motifs drawn from various South American, modernist European and Australian sources (for details, see Brett & Benjamin 2006: 54-55, and Jones 2012: 18-20), and playful elements such as the cartoon cat at the lower centre of the left-hand canvas, based on one of Arkley's studio collection blow-up figures (visible in photo reproduced above under general remarks for 1982). Roger Benjamin (Brett & Benjamin 2006) points out that Davila signed and dated the left hand canvas (at lower left): 'Cy Kosis '91'.
For further discussion of the work, including comments on its significance within the broader development of Arkley and Davila's collaborative oeuvre, see Carnival 149-53, and Georgia Jones (2012).
There is an extensive corpus of working notes and drawings, some in Arkley's archive, others in the Benalla Gallery, including Blue Chip Instant Decorator: a Room 1989 [W/P], a collaged study for the left-hand canvas. Davila insists that the installation should always be shown as originally set up at Tolarno (as shown here), with the two main components facing one another to form a stylised 'room'; detailed instructions to this effect are held at Benalla.
The artists modified the work slightly in 1992, replacing the original carpet pieces with  'rugs' in the shape of low wooden plinths. John Jones, director of the Benalla gallery in 1997, was instrumental in securing the purchase, an adventurous one for the regional gallery.
Provenance
The artists/Tolarno;
acquired for Benalla 1997
Exhibited
Tolarno 7/91
Melbourne Art Fair 1992 (modified)
Benalla 1997 (dates?)
HA retrospective 2006-7 (as 1991-99; size etc. as above; shown at all 3 venues)
Literature
Gates 1992:  21 (ill.)
O'Connell 1996
Spray 101-5 (inc. ill. as shown in 1992)
Gregory 2001, 3-6
Jones 2002: 2-3 (1991 photo shown here)
Carnival 149-53, Figs. 5.1, 5.10-11
Brett & Benjamin, Juan Davila (2006): 54-55
Jones 2012, 17-22