Zappo Head [screenprint] 1991 and later [W/P]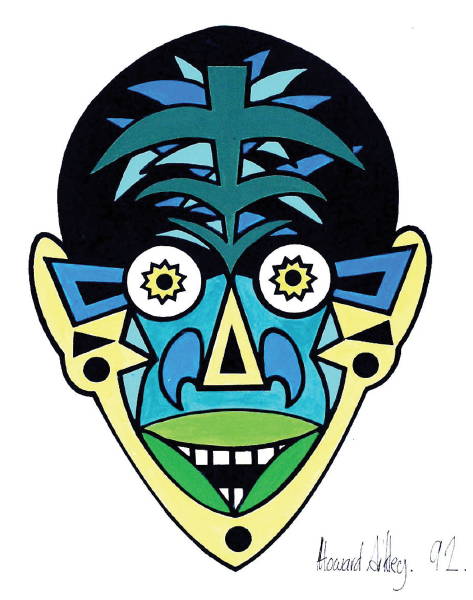 Hand-coloured silk-screen on paper (multiple ed.): approx.35 x 25 (paper size variable)
Various collections (inc. NGV)
Impressions of this hand-coloured screenprint were first produced in 1991, at the time of Arkley's Monash survey exhibition.
There are also various examples dated 1992 and later. The 1992 version reproduced here is one of a pair in a private collection in Melbourne. Impressions have appeared regularly at auction since 2000, sometimes fetching substantial prices (ranging from $9,200, in 2000, to $1,440 in 2005).
Arkley's archive contains the template (annotated "Howard Arkley / original Must Keep"), and various sketches and variants, including one with an added mask based on Simulated Portrait 1990: for details and reproductions,  see Fitzpatrick & Lynn (2015), p.98. See also Zappo Head (with animal mask) 1991 [3/M] (Monash Uni. collection).
See also Untitled [Woodgrain Zappo Head] (1991) [W/P].
Provenance
Literature
Carnival 175 and Fig.6.25