Picasso Head 1990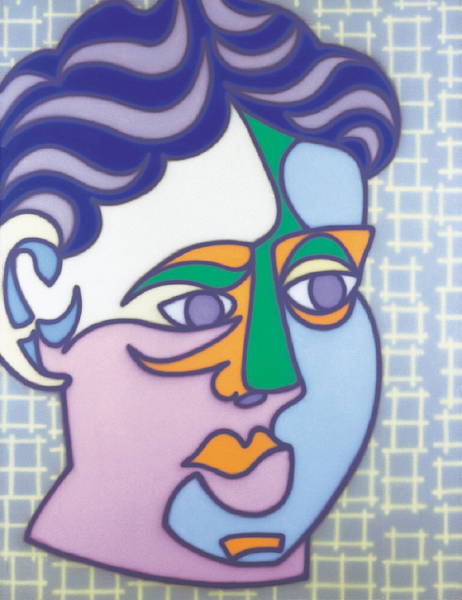 Synthetic polymer paint on canvas, 175 x 135
signed, dated and titled [on reverse: 'Howard Arkley / Picasso Head / 1990']
Coll.: unknown (last auctioned Aug.2007)
First shown in the 1990 'Head Show', this work was included in the 2006-7 NGV retrospective, and has appeared at auction several times since the artist's death.
Gregory (2000: 28 and Carnival 107-8) comments on the modifications to the source, a Picasso drawing in neoclassical style dating from 1921 (altered copy in Arkley's archive), and also discusses the grey line-work and pastel colour scheme in relation to Arkley's late style.
For earlier work on paper versions, see Picasso Face (1985) [W/P] and the coloured photocopies noted under 1987 Works on paper (minor).
Provenance
Purchased for Tolarno in 1990 for an unidentified P/C (acc.to Christie's)
Auctioned by Christie's, Sydney, 13 Aug. 2000, lot 106 (ill.; est.$35-50,000; not sold)
With Gould 2001-2 (see exh. details below)
Later in a private collection in Melbourne, c.2002-7 (noted e.g. in NGVA Arkley exh. planning files, c.2006)
Auctioned by Bonhams, Melb., 7 Aug.2007, lot 103 (ill., details as above; sold for $96,000+)
Exhibited
HA Tolarno 10/90 ('The Head Show'), cat.8
HA Gould 8/01, cat.9
HA Gould, Sydney 3/02, cat.3 (details as above)
HA retrospective 2006-7 (Melbourne only)
Literature
Gregory 2000:28 (identifying the Picasso source)
Carnival 107-8 and Fig.3.22