Icon Head (1990)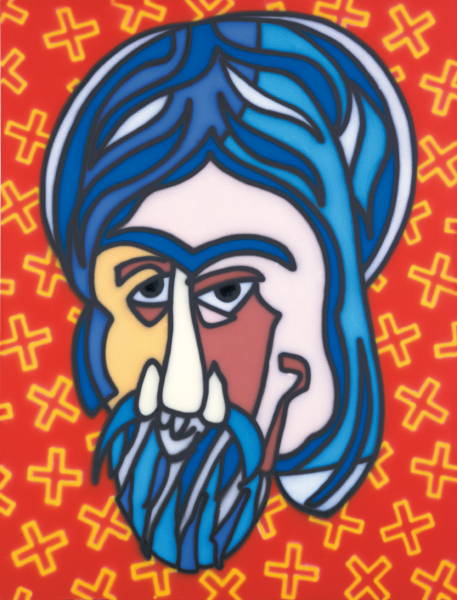 Synthetic polymer paint on canvas, 175 x 135
Private collection, Melbourne
This tour-de-force of reverberant colour and intricately sprayed line-work was first exhibited in Arkley's 1990 'Head Show'. As argued in Carnival 182, the canvas, displayed prominently at Arkley's funeral in 1999, is equally as revealing a 'self-portrait' as Psychedelic Head (1990).
The pulse of blue against red and yellow parallels the effect of the medieval icons alluded to. The precise source was probably a late Byzantine religious icon (see Gregory, Icon Interior, 2001: 16).
Related works include Untitled [Icon #1] 1984 [W/P], and the black and white variant Icon Head (1994), the centrepiece of Arkley & Davila's installation Icon Interior (1994-2001) [3/M].
Provenance
P/C Melb., acquired directly from the artist
Exhibited
HA Tolarno 10/90 ('The Head Show'), cat.3;
HA retrospective 2006-7 (all 3 venues)
Literature
Spray 105 (ill.)
Gregory, Icon Interior, 2001: 16-17
Carnival 182 and Fig.6.30
Smith 2006: 17 (ill.)