Head Virus 1991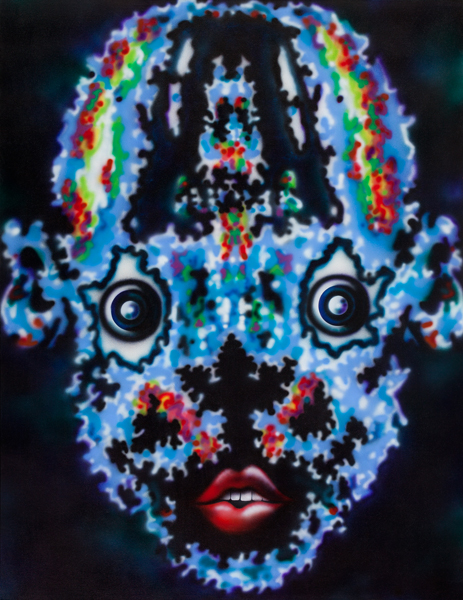 Synthetic polymer paint on canvas, 175 x 135
Signed, dated and titled [on reverse; with earlier title and date, Simulated Portrait 1990, crossed out]
Private collection, Melbourne
Arkley apparently originally intended this to be one of the paintings in the 'Head Show' at Tolarno, which opened on 19 October 1990. An archive photograph (inscribed by Arkley "Studio Oct 1990 taken by Howard several weeks before Tolarno show") shows the work still in process in his studio, together with Transformer Head (1990), also incomplete. The cancelled title on the back of the present canvas was actually used for one of the other works included in the Tolarno show, Simulated Portrait 1990.
During preparations for the 2015-16 Arkley survey at TarraWarra Museum of Art, curator Anthony Fitzpatrick established that the composition of the present work was based on an image from one of Arkley's studio magazines, showing what happens inside a head when a virus takes hold (see Fitzpatrick & Lynn 2015, as cited below). Other source images from Arkley's archive (including a set of luscious lips) were also included in the TarraWarra exhibition.
A note in Arkley's files records the sale of this canvas to the present owner via Brisbane dealer Peter Bellas in April 1992.
Provenance
Purchased via Bellas 1992 (see above)
Exhibited
HA TarraWarra 12/15-2/16 (details as above; ill.)
Literature
Fitzpatrick & Lynn, Howard Arkley and Friends (2015), 18-19 and 106 (including reproductions of the present work and archive source images)