Computer Head 1990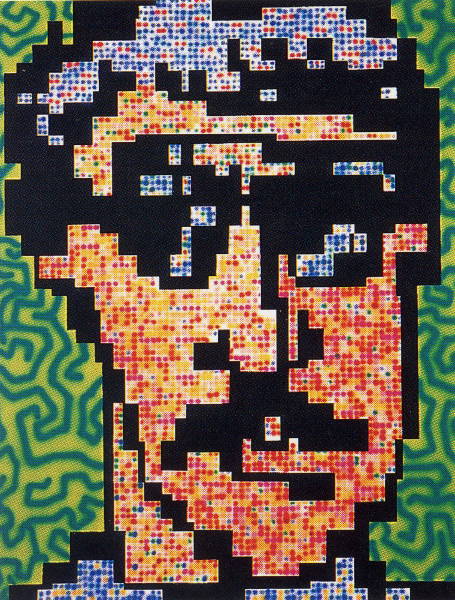 Synthetic polymer paint on canvas, 175 x 135
signed, dated and titled [on reverse: 'Howard Arkley / Computer Head / 1990']
Coll.unknown
This painting was exhibited in the 1990 'Head Show' at Tolarno. Arkley's dot-matrix source image is preserved in his studio collection – for a reproduction, see Visual Diary D 41 (1995).
The authors of Spray see this picture as lacking the complexity of Arkley's more multi-layered works. This could be fair comment; nevertheless, this work reflects the artist's consistent interest in computer imagery.
Early in his career, he considered computer images as sources (mentioned in Boles 1975), later produced 'abstract' works based on dot-matrix print-outs [see e.g. Print Out (1980)], and in 1998 began a series of heads 'drawn' on a computer. It would have been fascinating to see how his art evolved in the climate of the flourishing of 'new media art' in the early 21st century, given this long-standing interest in electronic sources and imagery.
Provenance
P/C Melb.(acquired from the artist in 1990, according to Deutscher-Menzies 3/07)
Auctioned by Deutscher-Menzies, Sydney, 13/3/07, lot 21 (ill. and details as above; est.$30-50,000; sold for $34,000 plus buyer's premium)
Exhibited
HA Tolarno 10/90 ('The Head Show'), cat.7
Literature