Cityscape (1990) [large]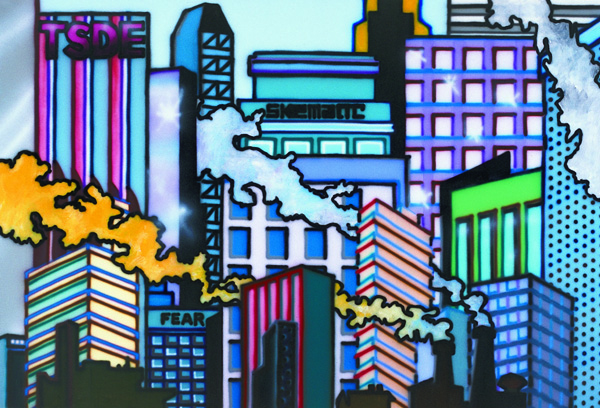 Synthetic polymer paint on canvas, 175.5 x 259
Private collection, Melbourne
Close in scale and character to Arkley's larger 'shadow factories' of 1989-90 (note the clouds of smoke and chimneys), this painting was first exhibited in the 1995 'Downtown' show at Heide. For discussion in relation to Arkley's interest in urban themes, see Carnival 45.
The light reflected from several of the buildings recalls High Rise St Kilda Road 1986. The word 'FEAR' inscribed at lower left matches the comic-book style, and could also be a deliberate reference to the opening page of the Bret Easton Ellis novel American Psycho (first published in 1990). A quick net search turns up various references for 'Skematic' and 'TSDE', but none of likely relevance here.[1]
Provenance
In present collection by 1991 (HA Monash exh. planning files)
Exhibited
Heide 1995 ('Downtown'; not ill.)
HA retrospective 2006-7 (Melbourne only)
HA TarraWarra 12/15-2/16 (details as above; ill.)
Literature
---
[1] TSDE, for example, can be an abbreviation for (among other things) 'Time-Shift Division Encoder', 'Tennessee State Department of Education', and 'Transsexuell Deutschland'!