'Howard Arkley: The Pointillist Suburb series', Tolarno, Nov.-Dec.1994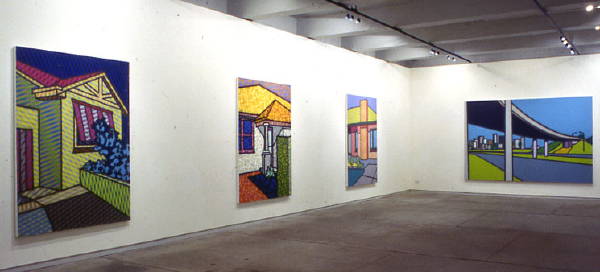 'Howard Arkley: The Pointillist Suburb series', Tolarno Galleries, 121 Victoria Street, Fitzroy, 7 Nov.-3 Dec.1994
Good installation photos exist for this show, Arkley's first in Tolarno's new Fitzroy premises (example reproduced here, showing, from left, cat.nos.4-7; source: former Monash Uni.Visual Arts slide library).
There are no problems of identification with any of the works, one of Arkley's strongest series of pictures, and, according to some significant judges, clearly his best (see, for example, Spray co-author Ray Edgar's comments for the NGVA's Arkley retrospective audio-guide, 2006).
Most of the suburban exteriors reprised compositions already used for other Arkley houses – Floriated Residence, for example (cat.no.5), derives from the same real estate source as Stucco House (1988) – but the differences are revealing and informative about the substantial shift in his style in the intervening period. Whereas his earlier works often focussed on the incidental detail of suburban dwellings (tiles, bricks, stucco walls, window-frames and foliage), the emphasis had shifted in 1994 to the decorative intensity of the domestic sphere, now treated almost 'abstractly'. At times, the varied patterns threatened to engulf the individual dwellings, and the real emphasis of each work seems to be on the optical illusions of pattern and colour, and the delicacy of nuanced tone and hue within areas of patterning, rather than on the individual building represented.
The freeways, painted in a contrasting style of large planes of uniform colour stretching across cinemascope canvases, initiated a new theme in Arkley's work, to be extended with a number of variants during the remainder of his career.
In a feature in the Melbourne Age by Sonia Harford (23 Nov.), published to coincide with this exhibition, Arkley spoke at length and with increasing conviction and subtlety about his commitment to painting the suburbs. This interview also contains the original version of the story I have called elsewhere the 'Dot legend' (see Carnival 14ff., including a critical analysis).
Most of these canvases have been exhibited and reproduced repeatedly since 1994 (see individual entries for details). Cat. nos. 6 and 9 were included in the 'Unhomely' show that toured Korea in 1998; nos.1-6 were shown at Venice in 1999 as 'Residential Subdivision'; and five paintings (nos.3-5 and 8-9) were included in the 2006-7 Arkley retrospective at the NGVA.
4.      Spray Veneer 1994
7.      A Freeway Painting (Over Pass) (1994)
10.    A Freeway Painting (Exit) 1994
11.    Rrrrrr Art 1994