Howard Arkley – The Head Show', Tolarno, Oct.-Nov.1990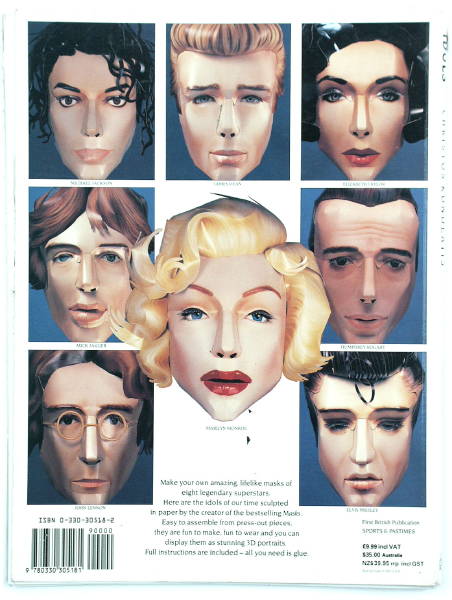 'Howard Arkley – The Head Show', Tolarno Galleries, River Street, South Yarra, 19 Oct.-10 Nov.1990
Here, Arkley finally realised a long-standing ambition to mount an entire exhibition of heads and faces, an abiding interest, as shown by his 'visual diaries' and studio notes over many years (for detailed discussion of this topic, see Gregory 2000: 27-8, and Carnival 133ff.and 177ff.).
As he explained to Virginia Trioli in the Age (26 Oct.1990), all the canvases – taking their cue from the various faces in the contemporary mass media – were 'masks… hiding identities', and also self- portraits of a kind. The mask idea was treated playfully in the invitation, a reproduction of Simulated Portrait (no.2), with nose and eyes cut out, implying that visitors should wear it to the opening (as some did: archive photos).
The individual canvases were developed from an extensive range of sources and planning ideas: for extended analysis, see Spray 98ff., and Carnival 133ff. and 177ff. (including reproductions of a number of relevant source images). See also reproduction here of a 1988 mask book in Arkley's studio collection (including the source for cat.no.8, visible at upper right).
However, the exhibition met with a lukewarm response from a public now perhaps already inclined to see Arkley essentially as the painter of suburbia; there were no reviews, not even by long-standing Arkley supporter Robert Rooney.[1] Nevertheless, most of the works sold (each was priced originally at $6,000).
Since Arkley's death, Psychedelic Head (no.4) has come to be seen as the most revealing of these 'self-portraits' (but for further comments on this point, see Carnival 182). Nos.1-4, 6 and 8 were also shown at the 2006-7 Arkley retrospective. Good slides, and several installation shots, are held in the artist's archive, together with several work-in-progress photos.
(photo: back cover of Christos Kondatis, Idols (1988), including source image for Plastic Portrait [Arkley archive])
8.      Picasso Head 1990
---
[1] An aside in an earlier Arkley review by Rooney seems relevant here: commenting on Shadow Factories (1988), as shown in Arkley's 'Houses & Homes' show, Aug-Sept.1988, Rooney (1988: 'Home on the range') praised it as 'a return to form (particularly, when compared with the painting of a mask in the backroom)', possibly referring to one of Arkley's two Zappo Head canvases of 1987. This is a telling example of the way in which even Arkley's supporters sometimes betrayed a prejudice for his suburban theme and hence against his interest in exploring other subjects.