'Howard Arkley: Mix'n Match', Tolarno, Oct.-Nov.1992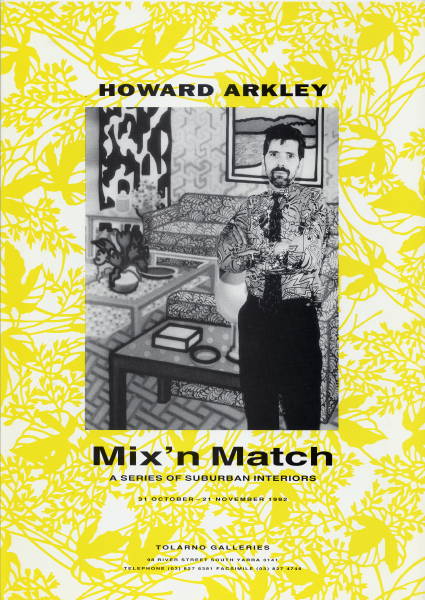 'Howard Arkley: Mix'n Match', Tolarno Galleries, River Street, South Yarra, 31 Oct.-21 Nov.1992
In this, his first solo show after the 1991 Monash survey, where suburbia had emerged as central to his mature artistic project, Arkley consolidated the theme, returning to the domestic interior he had first depicted in Suburban Interior (1983), and had explored more recently with Juan Davila, in Blue Chip Instant Decorator: a Room (1991-2) [3/M].
Most of the canvases in this show reveal a tendency towards greater density of detail, incorporating an array of clashing patterns and colours, and also extensive use of stencils – showing the influence of Alison Burton, whose own developing style at the time was based heavily on stencilled lace and related patterning. The result was a significant formal development in Arkley's work, as several reviewers noted (e.g. Stephen O'Connell in Art + Text no.44, 1993). The show was also a commercial success, and many of these works have been widely exhibited and reproduced ever since 1992. Most of them (nos.1-5, 7-8) also appeared in the 2006-7 retrospective.
The 1992 catalogue essay, my first critical engagement with Arkley's work (commissioned by Tolarno director Jan Minchin, a mutual acquaintance), contains extensive quotes from interviews conducted with the artist during the year. The essay contrasts Arkley's vision of suburbia with earlier attitudes by Robin Boyd, Barry Humphries and others, arguing that the artist's approach hovered somewhere between affection and satire: 'The suburban scene grates as it pleases, and one is left with the eerie sensation of an all too familiar dreamworld' (Gregory 1992: unpaginated; and for similar observations, see the reviews published in Artfan no.1, Spring 1993, p.4).
Returning to consideration of this series in his 2006 monograph on the artist, I elaborated on those earlier views, also noting the fact (unknown to me in 1992) that the compositions of most of the pictures in this show were based primarily on the illustrations in a 1970s US interior decorator manual, The Instant Decorator. This book, given to Arkley by fellow artist John Nixon, had already provided the compositional basis for the two major canvases of Blue Chip, as well as a partial inspiration for the title of that installation; for further details, see linked entry: Gold's Instant Decorator.
Nine of the ten canvases shown are easily documented via photographs and other sources, but no.10, strangely enough, has yet to be identified (no installation photos appear to be extant).
1.      Deluxe Setting 1992: the compositional source, also the basis for the right-hand canvas in Arkley and Davila's collaborative work Blue Chip Instant Decorator, is the 'Contemporary Living Room' page from Gold's Instant Decorator
3.      Spartan Space (Homage to De Stijl) 1992
5.      Ultrakleen 1992
8.      Roomrite 1992; this work was shown again in Arkley's 'Recommended Rooms' show at the Bellas Gallery, Brisbane, in May-June 1993, as Room Rite (no.3), and was apparently purchased from that show.
9.      Ultra Living 1992: later exh. in 'Downtown' (1995)
10.    Interiorite 1992: unidentified!