House and Native Tree 1996 [W/P]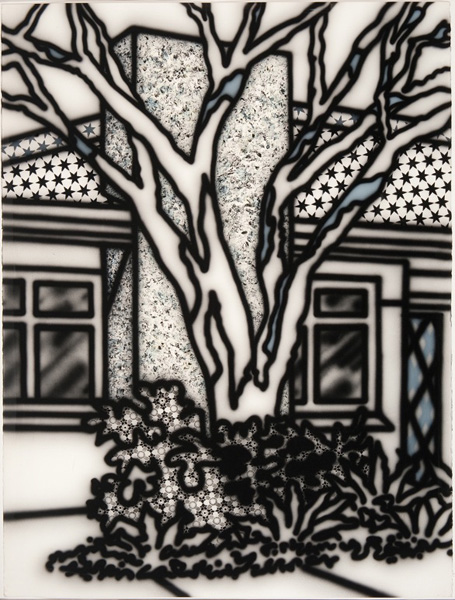 Synthetic polymer paint on paper, 160 x 120.5
Signed, dated & titled (verso: 'Howard Arkley /1996/ House and Native Tree')
Collection: unknown (last auctioned Nov.2018)
Recent documentation confirms the title and date of this elegant work, previously listed in this catalogue as Untitled ['House with Tree'] (c.1995-6) [W/P]. It was purchased from Tolarno by its first owners, and subsequently acquired by John Symond. In 2018, it was sold at the Sotheby's auction of works from Symond's collection.
An undated photo in Arkley's files, showing the work incomplete, appears to date from the same time as photographs of two 1996 canvases of the same subject, also in process: see now Another House and Garden 1996 and House with Native Tree [aka Established Garden] 1996.
The style is closely comparable with several other large-format, essentially monochrome works on paper made and exhibited in 1995, featuring similarly extensive passages of stencilling, and a subtle variety of grey tones: see, for example, Home Enclosed by Fence 1995 [W/P].
Provenance
Tolarno Galleries
Acquired from the above by Mr & Mrs Marr, Melbourne
John Playfoot Fine Art, Melbourne, 2003 (noted by Mossgreen 5/11): the work is listed as 'House with Tree (c.1980s)', in Playfoot's catalogue of works by or attributed to Arkley, dated April 2003, no.322 (same dimensions)
Collection of Mr John Symond AM, Sydney (acquired from the above, 2003)
Auctioned by Mossgreen, Melb, 31 May 2011, lot 22, as 'Untitled – House with Tree, circa 1995-6′ (ill., listing provenance details from 2003 onwards; est.$50-70,000; not sold)
Auctioned by Sotheby's, Sydney, 20 Nov.2018, lot no.1 (details as shown here, with an estimate of $80-120,000; sold for $170,000 plus buyer's premium [$207,400])
Literature
Renwick 2011, lot 22 (Mossgreen auction catalogue entry: see above)
Elizabeth Hastings, Wingadel: The John Symond Collection, Sydney: The Beagle Press, 2013, pp.224-5: as 'Untitled (House with Tree'); ill. (cited by Sotheby's, Oct.2018, as noted above)