Tudor House; and source material (1988 and earlier) [W/P]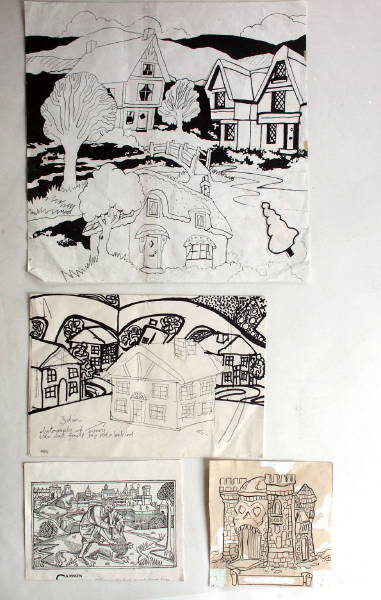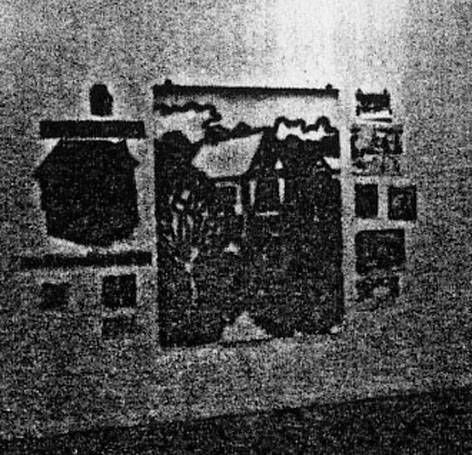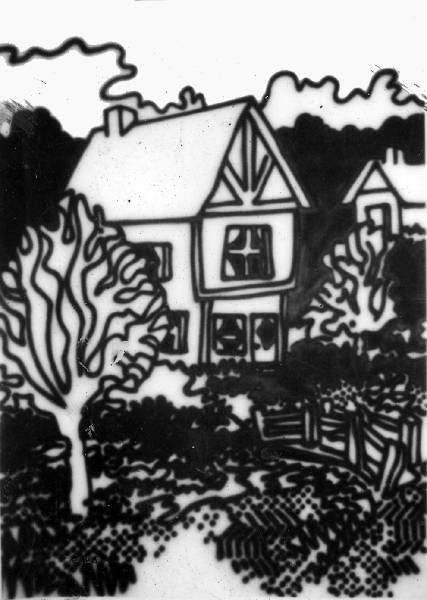 Synthetic polymer paint on 2 sheets of paper, c.172 x 122; some source material extant
Coll.: unknown (work on paper); Arkley archive (source material components)
Richard Brown's 'Casual Works' catalogue essay (1988) indicates the title. A Polaroid photo in Arkley's files (reproduced here) clearly shows the main work, which may have been the work on paper exhibited in Hamilton later in 1988 as House (1988) [W/P]; in any case, its whereabouts are unknown.
The overall 1988 installation is only indistinctly visible in the Brisbane shots by Richard Stringer (example reproduced here); the ensemble was apparently disassembled after the 1988 exhibitions, and a few of the smaller pieces (recognisable from the installation photos) are extant in Arkley's studio collection, pasted onto transparent plastic sheets: details reproduced here.
The most significant extant component, listed separately, is Untitled [Tudor House] (c.1988) [W/P].
[photos, from top: source material in Arkley archive; 1988 Brisbane installation view; main work on paper]
Provenance
Exhibited
'Casual Works' 200 Gertrude Street and IMA Brisbane, 1988
Literature
Brown & Trioli 1988 ('Casual Works' exh.cat.)