Shadow Factories 1991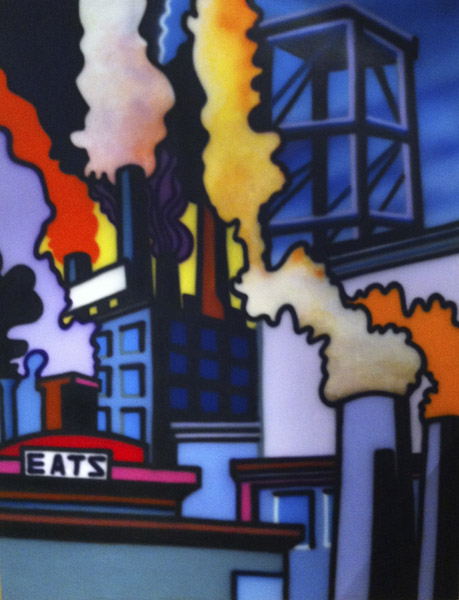 Synthetic polymer paint on canvas, 175.5  x 135.5
Signed, dated & titled [on reverse]
Coll.unknown [last auctioned Nov.2023]
This canvas was originally listed in this catalogue under 1989, the presumed date under which it was noted in NGV planning files for the Arkley retrospective in 2006-7. However, it was subsequently confirmed to date from 1991 – the date also inscribed on a photo in Arkley's files, showing the artist standing in front of the painting, wearing the skull-and-crossbones shirt he wore in many other photos dating from the same period.
The verso inscription incorrectly gives the size of the painting as 120 x 160 cm; the actual size was confirmed by the first owner in 2014 (along with further photos and documentation confirming the purchase in 1991).
The 'EATS' sign at lower left clearly points to a connection with Untitled (Shadow Factory collage) (c.1991) [W/P], Arkley's modified version of a reproduction of his own earlier painting Shadow Factories (1988). In fact, the relationship is so strong that the collage may be seen as a 'working drawing' for the present canvas.
After many years in the collection of its original owner, this painting was sold at auction in November 2023.
Provenance
Howard Arkley, Melbourne
Private collection, Melbourne, acquired from the above in 1991
Auctioned by Smith & Singer, Sydney, 21 Nov.2023, lot 12: ill.and dets.as noted above: est.$800,000-$1 million; sold for $1,043,182 (inc.buyer's premium)