House with Native Tree  1996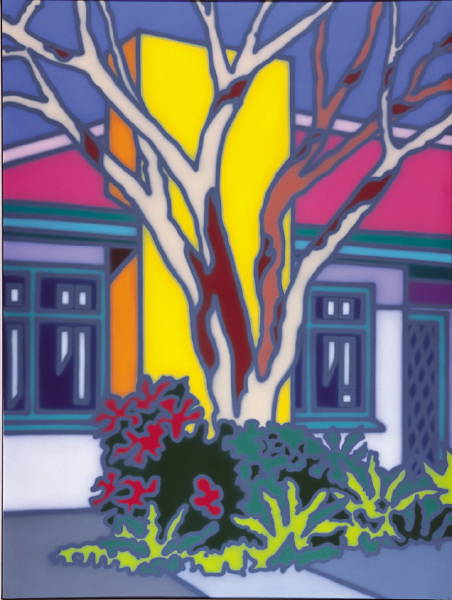 Alternate title: Established Garden
Synthetic polymer paint on canvas, 203 x 153
Signed, dated and titled (on verso): "Name. Howard Arkley / Title Established Garden / Date 1996 / Size {not given} / Medium Acrylic on Canvas"
Private collection, Melbourne
This elegant painting is composed in grey and various other muted hues, contrasting with the more colourful but otherwise very similar Another House and Garden 1996; see also The Tree House Painting 1996.  The Arkley archive contains a series of in-process photos of the present painting, dated Aug.1996.
This work was shown as 'House with Native Tree' in group exhibitions staged in Singapore (1996) and Korea (1998), and has been exhibited and published several times since, also with the same title.
Surprisingly, however, when the painting was sold by its original owners early in 2014, the verso inscription transcribed above was discovered (not previously noticed), indicating the title 'Established Garden'. Arkley apparently changed his mind about the name of the work before it was first exhibited. Preference is given here to the title by which the painting has been known ever since 1996.
Despite several previous indications that this canvas measures 173 x 135 cm, the correct size is as noted above. Many thanks to Kalli Rolfe for helping to clarify this and other details noted here (April 2014).
This work was one of five paintings subsequently released in limited edition reproduction prints by Kalli Rolfe Contemporary Art: for details, see 2011.
Provenance
Galbally Rolfe collection, Melbourne (purchased directly from Tolarno 1996)
Purchased by the present owners in March 2014
Exhibited
'Contemporary Australia: Six Leading Artists', World Overseas Bank, Singapore, 1996: as 'House with Native Tree'
'Unhomely', Sonje Museum of Contemporary Art, Seoul and Kyomgiu, Korea, 1998: as House with Native Tree 1996 (see Smith 1998: catalogue)
HA retrospective 2006-7 (shown at all 3 venues): : also as House with Native Tree 1996
Literature
Art & Australia 34.3, 1997 (Tolarno advertisement, showing this work)
Smith 1998 ('Unhomely' exh.cat.), p.25 (ill.)
Spray [2001 ed.]: 129 (ill.): : as House with Native Tree 1996
Carnival 21 and Fig.1.12: also as House with Native Tree 1996