High Fenced 1996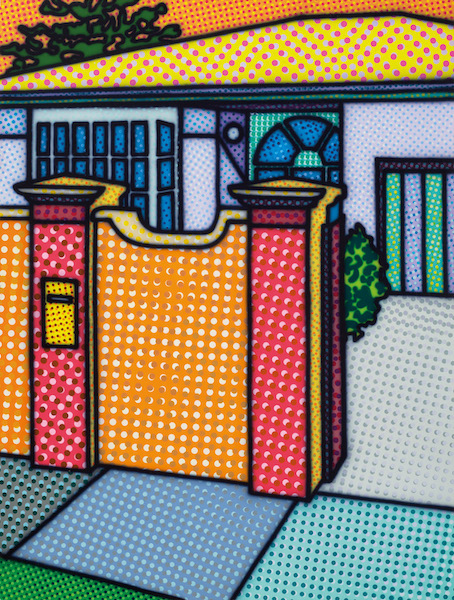 Synthetic polymer paint on canvas, 203 x 153
Signed and dated verso
Private collection, London
This work, first shown by Tolarno at Art Cologne in 1996, applies the all-over 'moiré' patterning Arkley developed in 1994 to a new suburban subject, featuring quasi-classical detailing in the front fence. This composition first appeared in monochrome form in High Fenced (1995) [W/P].
Arkley's archive contains a series of photos of the painting in process, and one, dated Oct.1996, showing the artist engaged in hanging the completed work (at Tolarno?).
Provenance details and a good recent photograph, as shown here, kindly provided by Ella Perrottet (Registrar, Deutscher and Hackett), ahead of the auction of the work in Melbourne in November 2022.
Provenance
Tolarno Galleries, Melbourne
Gould Galleries, Melbourne, acquired from the above, 1996
Private collection, London, acquired from the above, 2000
Auctioned by Deutscher and Hackett, Melb., 1 Dec.2022, lot 5 (with additional provenance details and photograph as shown here; est.$500-700,000; sold for $700,000 + B/P = $859,091)
Exhibited
Tolarno at Art Cologne, Cologne, Germany, 10-17 Nov. 1996