Another House and Garden 1996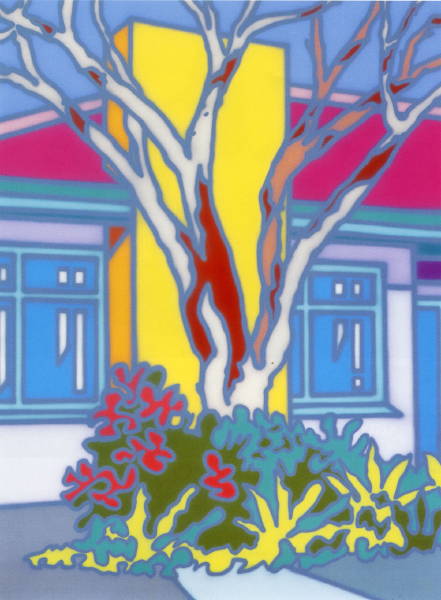 Synthetic polymer paint on canvas, 203 x 153
signed, dated and titled [on reverse: according to Gould 2/03]
Private collection, Melbourne
This work, possibly one of the Arkleys shown by Tolarno at Art Cologne in 1996, was purchased from Tolarno, also in 1996. It was subsequently published as in the collection of Gina Star (Forbes 2001). Early in 2003, it appeared in a group show at Gould Galleries in Sydney.
Nature (suburbanized) plays a prominent role here. The title draws attention to the fact that this was one of several very similar canvases based on the same composition dating from 1996-97: see in particular House with Native Tree [aka Established Garden] 1996. This version is distinguishable by slight differences in the foliage and the bark of the tree – and a more vivid overall palette.
My thanks to Kalli Rolfe for helping to clarify issues regarding the history of this work (April 2014).
Provenance
purchased from Tolarno 1996 (according to Gould 2/03; confirmed by Kalli Rolfe 4/14)
Gina Star collection (see Forbes 2001)
Private collection, Melbourne
Exhibited
(possibly) Tolarno at Art Cologne, 1996 ('House with Native Tree': see Spray 130)
Gould, Sydney, 2/03 (group exh.), cat.41: details and illustration as shown here
Literature
Forbes 2001 (Gina Star story, with a photograph including this work)