Urban Apartments 1999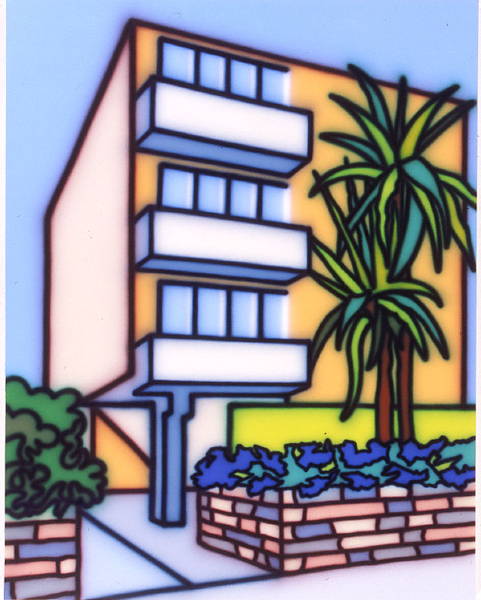 Synthetic polymer paint on canvas, 175 x 135
signed, dated and titled

[on reverse: 'Urban Apartments Howard Arkley 99': according to Lawson-Menzies 9/07]


Coll.: unknown
This work, included in Arkley's 1999 Los Angeles show, is a variant of O.Y.O.Flats 1987 and Modern O.Y.O.Flats (1988).
The colour here is higher keyed, and the trees in the earlier versions have been replaced by palm trees in varied shades of green. In Carnival, I suggested that this change may reflect the U.S.audience the 1999 picture was aimed at. However, Geoffrey Smith, in the catalogue entry for the 2007 auction of this painting by Bonhams, points out, with a supporting photo, that there are now palm trees outside the Carlton block of flats on which the work was based, suggesting that the motif has a basis in reality. Arkley's original real estate source image for the composition (in his archive) included a eucalypt, as reflected in the 1987 canvas. Perhaps he noticed the change in the Carlton site sometime between 1987 and 1999? Or could this be a curious case of nature imitating art?
This painting has changed hands a number of times since the artist's death, most recently at auction in Sydney in Sept.2012.
Provenance
P/C USA -> P/C Melb. -> P/C Melb. (noted thus by Bonhams 4/07)
auctioned by Bonhams  & Goodman, Melb., 23 April 2007, lot 681 (ill.; details as above, inc. previous history; sold for $144,000 inc. buyer's premium)
P/C Sydney (noted thus by Menzies 9/10)
auctioned by Lawson-Menzies, Sydney, 13 Sept.2007, lot 232 (ill., details as above, including inscription; est.$160-200,000; sold for $165,000 plus buyer's premium)
P/C Melb. (noted thus by Menzies 9/10)
auctioned by Menzies, Sydney, 23 Sept.2010, lot 30 (ill., details as above; est.$120-140,000; sold for $110,000 plus buyer's premium)
P/C Melb. (noted thus by Menzies 9/12)
auctioned by Menzies, Sydney, 13 Sept.2012, lot 24 (ill., details as above; est.$90-120,000; sold for $115,000 plus buyer's premium)
Exhibited
HA Lovegrove LA, 7/99
McClelland Gallery, Langwarrin, Vic., 10/02ff. ('Suburban Echoes': shown as P/C Melb., courtesy Gould Galleries)
Literature
Carnival 84 and Fig.2.32
Geoffrey Smith in Bonhams 4/07 auction catalogue, p.124 (as cited above)