Untitled 1999 [House] [W/P]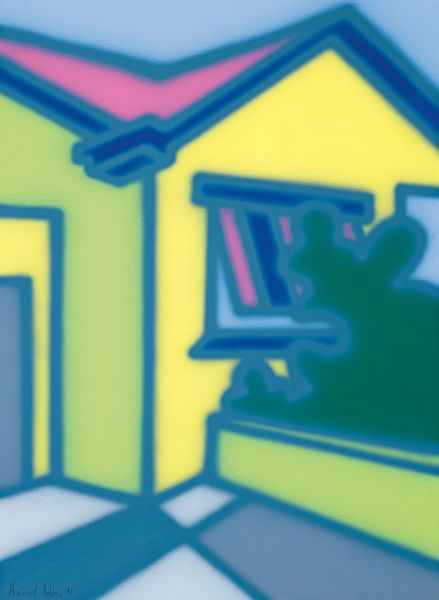 Synthetic polymer paint on paper, 76 x 56
signed and dated [l.l.: 'Howard Arkley 99']
Coll.: unknown
A simplified variant of Spray Veneer (1994), mostly in a narrow range of related blue, green and yellow tones, with vivid grey-blue line-work.
This work was auctioned by Sotheby's in 2007, noting that it was purchased from Tolarno in May 1999.
Untitled [House #2] (1999) is based on the same composition, but features heavy black line-work and more strongly contrasting colours.
Provenance
purchased from Tolarno May 1999 (acc.to Sotheby's 8/07)
P/C Melb. (acc.to Sotheby's 8/07)
auctioned by Sotheby's, Melb., 27 Aug.2007, lot 40 (as Untitled, details, previous history as noted above; est. $20-30,000; sold for $24,000 plus buyer's premium; ill.via AASD)