Superb + Solid (1998)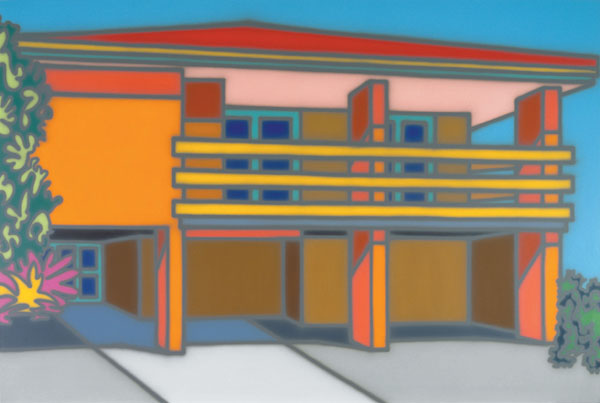 Synthetic polymer paint on canvas, 200 x 300.6
Art Gallery of New South Wales, Sydney [359.1998]
This monumental work was first shown in the 1998 Sydney Biennale and subsequently acquired for the New South Wales state collection. In 2013, it was included in the major exhibition of Australian art at the Royal Academy, London, contrasting with the rural landscape emphasis of many of the other works shown (see Keneally 2013).
The grey line-work softens the forms, supporting the abstract play of colour and line. On the other hand, shadow – rarely a feature of Arkley's work – is prominent here.
The title derives from the language of the real estate source reference: clipping in Arkley's files, showing a house in the Melbourne beachside suburb of Chelsea. In the 2015 TarraWarra exhibition catalogue, Anthony Fitzpatrick developed a detailed analysis of the painting, including close attention to the compositional process, and reproductions of source images and working drawings from Arkley's archive (State Library of Victoria).
Provenance
Exhibited
Sydney Biennale 1998
HA retrospective 2006-7 (shown in all 3 venues)
Australia, London, Royal Academy, 21 Sept.- 8 Dec.2013
HA TarraWarra 12/15-2/16 (details as above)
Literature
Hemispheres [United airlines mag.], June 1999, p.65
Cree & Drury 2000: 34-35 (ill.)
Gregory 2000: 30, fn.5 (noting the real estate source)
Spray (rev.edn., 2001), p.144 (ill.)
Carnival 20 and Fig.1.9
NGVA Arkley audio-guide 2006 (comments by Andrew Macdonald and Jason Smith)
Alexander & others 2007 (AGNSW Education brochure)
Keneally & others, 2013, pp.231 and 268
Fitzpatrick & Lynn, Howard Arkley and Friends (2015), pp.20-22 and 124-25