A Large House with Fence 1998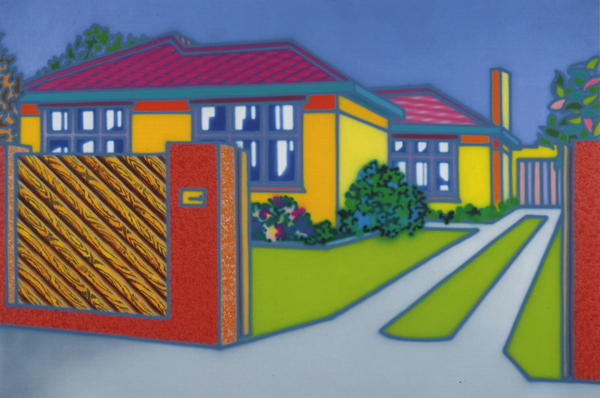 Synthetic polymer paint on canvas, 203.5 x 304.3 [acc.to Bonhams Aug.2014]
signed, dated and titled [on reverse]
Coll.: unknown [last auctioned Aug.2014]
This work, which exemplifies Arkley's late suburban style at its most assured, atmospheric and monumental, was widely publicised in 1998-99, including a reproduction in the catalogue of the 1998 Sydney Biennale, where its 'twin,' Superb + Solid (1998), was shown.
In 2000, ahead of the November auction of the present painting at Sotheby's, Megan Backhouse reported that it was apparently being considered for purchase by the Tate Gallery. However, despite considerable advance publicity, and reproduction on the cover of the auction catalogue, together with a lengthy appreciative essay (by an anonymous author), the work failed to reach its expected estimate at Sotheby's (see Jeff Makin, Herald Sun 27/11/00).
It was purchased subsequently by David Walsh for his Museum of Old and New Art in Hobart. Although the work seemed somewhat out of place at MONA, it was shown to advantage, its rich colour and intricate stencilled detail spotlit dramatically in the darkened gallery.
In August 2014, the work was auctioned again, this time by Bonham's in Melbourne, and was bought by an anonymous buyer, setting a new auction record for Arkley (see Abazi 2014).
Provenance
Tolarno -> P/C NSW (acc.to Sotheby's)
auctioned by Sotheby's Melb., 28/11/00 (ill.; est.$300-500,000; not sold)
MONA collection, Hobart (acquired 2006)
Auctioned by Bonhams, Melb., 18 August 2014, lot 11 (details and ill.as shown above; est.$250-350,000; sold for $380,000 + B/P = $463,600)
Literature
Watkins 1998 (Sydney Biennale exh.cat.), 62-3 (ill.)
Vogue Aust. Aug.1998, 52-3 (ill.)
Aust. Financial Review Magazine, Jan.1999 (cover ill.)
Hemispheres [United Airlines mag.], June 1999, 69 (ill.)
Backhouse in Melbourne Age, 6 Sept.2000
Makin, Melbourne Herald Sun 27 Nov.2000 (cited above)
Abazi, Australian Art Sales Digest, 19 Aug.2014