The Freeway (1999)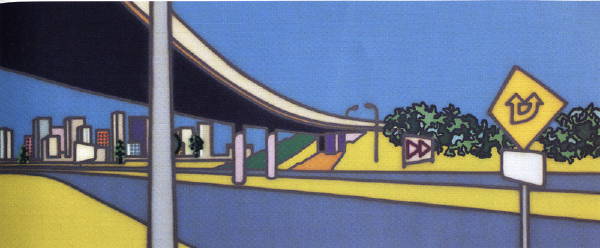 Synthetic polymer paint on canvas, 150.3 x 366
Collection of Wood Marsh Architecture, Melbourne
Arkley's culminating freeway, developed expansively from the photos he took a decade earlier.
As argued in Carnival, this glowing canvas – like several earlier examples, beginning with A Freeway Painting (Over Pass) 1994 – gives the lie to the idea of Arkley's freeways as typically alienated and 'cold' (see e.g. Spray 116 and Preston 2002: 201).
In the 2015 TarraWarra exhibition catalogue, which included reproductions of various source images and preparatory drawings from the artist's archive, Anthony Fitzpatrick developed the idea that this and other late freeway paintings reveal the persistence of formal and thematic concerns stretching back to Arkley's 1970s work.
Chris McAuliffe, in his catalogue essay for the 2015 TarraWarra show, drew attention to parallels between this painting and German electronic band Kraftwerk's 1974 song 'Autobahn'.
Provenance
artist's collection
recorded in present collection from c.2000
Exhibited
Heide, 12/99-3/00 ('On the Road'): details as above
HA retrospective 2006-7 (shown in Melbourne & Brisbane); as 'Freeway', P/C, 205 x 330 cm
HA TarraWarra 12/15-2/16 (details as shown above)
Literature
Hemispheres [United Airlines magazine], May 1999, pp.66-67 (ill.)
Gott 1999 ('On the Road' exh.cat.), p.4 (ill.)
Crawford 2000 (Arkley obituary in Art & Australia #37.3), 376 (ill.)
Carnival 45ff. and Fig.1.31 (showing Arkley at work on this painting)
Fitzpatrick & Lynn, Howard Arkley and Friends (2015), pp.22-23 and 138-39 (Anthony Fitzpatrick), and 36 (Chris McAuliffe), as cited above