Tattooed Head; and source material (1988 and earlier) [W/P]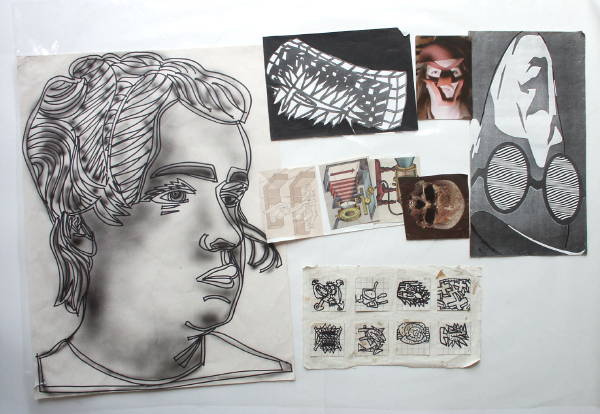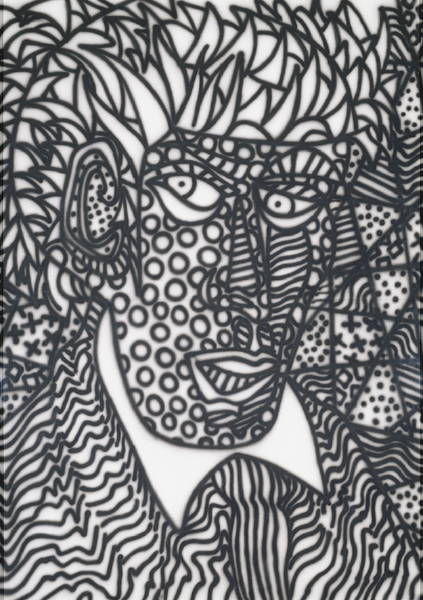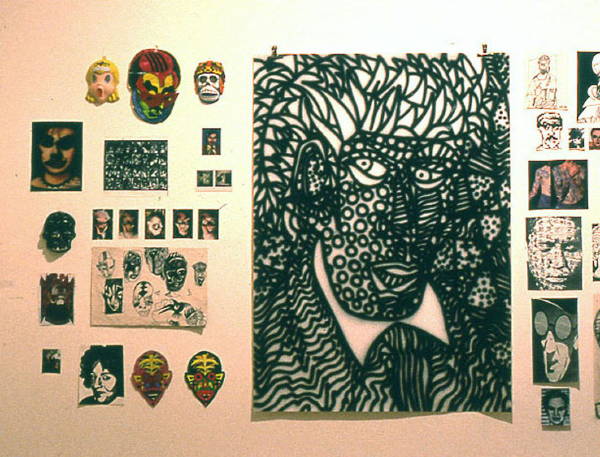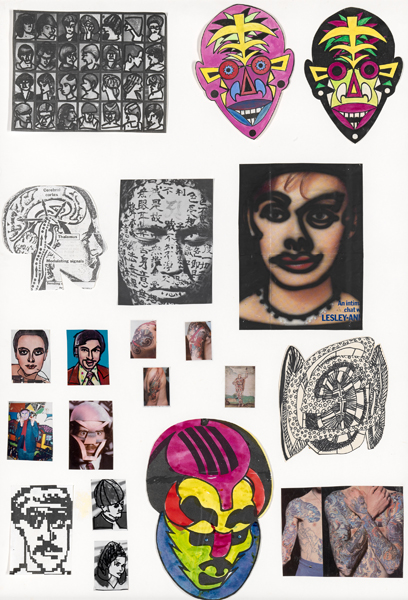 (a) Main drawing: synthetic polymer paint on 2 sheets of paper, 172 x 122 overall
(b) Source material (in framed panel): gouache, fibre-tipped pen, colour inks, photo-offset lithograph, paper and black and white photocopy on cardboard, 120.2 x 84.4
(c) Head: see Untitled [Large head] (c.1985) [W/P]
(d) Additional source material
This material is located as follows:
National Gallery of Victoria (a & b above) [P.91/1989: work on paper, purchased 1989; P109.b-1989: source material, gift of the artist 1989] 
Private collection, Melbourne (c above)
Arkley archive (d above)
(photos: from top: source material in Arkley archive; main work on paper [NGV]; general view of 1988 installation at 200 Gertrude Street [file slide]; panel of source material as preserved in the NGV)
Arkley's files contain slides of the ensemble as exhibited at 200 Gertrude Street in May 1988 (overview reproduced below).  The installation at the IMA later in the year was similar, to judge from installation photos taken there. Both the main work on paper and a selection of the source material were acquired by the NGV in 1989.
The central work is an elegant monochrome reprise of Tattooed Head (1983), in reverse. The source material includes masks and head sources, working drawings based on icons, etc., a couple of early Zappo Heads, and some of the photos Arkley produced for the 'Portrait of the Artist and Five Friends' project (1984-5) [3/M].
Additional material still in Arkley's archive, also reproduced here, is pasted onto clear plastic. It includes other source images and doodles, including cacti; and the sprayed and drawn head listed separately in this catalogue (c above).
Provenance
Artist's collection
NGV components acquired 1989
Exhibited
HA 'Casual Works', 200 Gertrude Street and IMA Brisbane, 1988
Both NGV components also shown in HA retrospective 2006-7 (Melbourne only)
Work on paper (a above) also shown repeatedly at the NGV
HA TarraWarra 12/15-2/16: NGV source material (b above)
Literature
Spray 4-5 and 87 (ill.)
Carnival Fig.4.2 (reversed)
Fitzpatrick & Lynn, Howard Arkley and Friends (2015), p.85 (reproduction of NGV source material: b above)