Home with Eucalyptus (1999)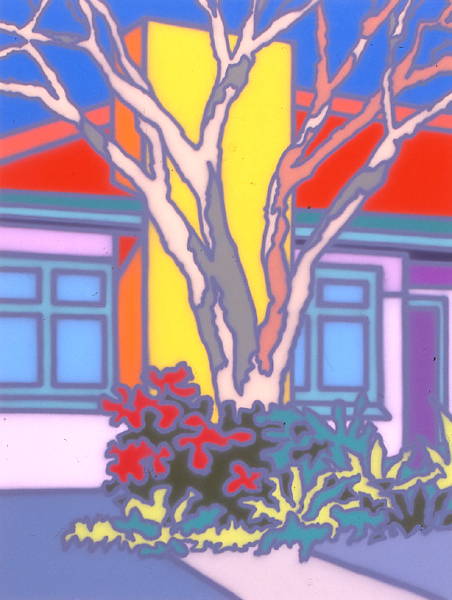 Synthetic polymer paint on canvas, 175 x 135
Private collection, Los Angeles, USA
This canvas, shown in Arkley's 1999 exhibition in Los Angeles, is a vivid variant of House with Native Tree [aka Established Garden] 1996, etc.
In August 1999, this work was reproduced in the Arkley obituary by Ashley Crawford published in the Bulletin; the photo is credited to Sherman Galleries, reflecting an unrealised plan for Arkley to resume exhibiting in Sydney (thanks to Amanda Henry of Sherman Galleries for information, Nov.2008). There are slides and photos in the artist's archive.
In May 2014, information sent to Arkley Works confirmed that the painting remains in the private collection in Los Angeles for which it was bought directly from the Karyn Lovegrove exhibition in 1999.
Provenance
Private collection, Los Angeles (purchased from Karyn Lovegrove 1999)
Exhibited
Literature
Crawford 1999: 110-11 [Bulletin]: see comments above