Nick Cave (1999)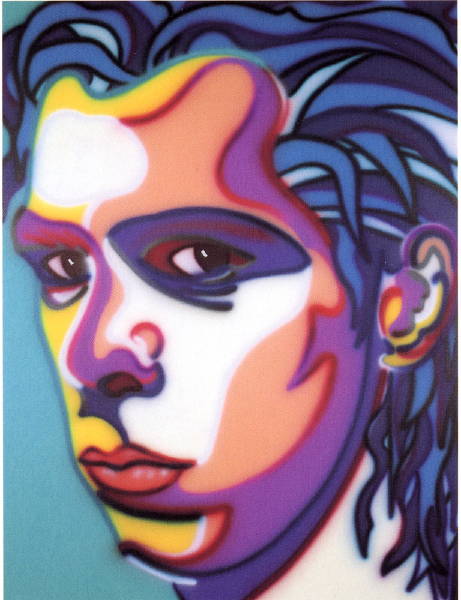 Synthetic polymer paint on canvas, 175 x 135
National Portrait Gallery, Canberra
A stylized tribute to the influential Australian musician whose work Arkley had followed since the late 1970s. The painting, commissioned by NPG director Andrew Sayers, has been widely reproduced and exhibited since 1999.
For detailed comments, see Gaston 2001, Ashley Crawford and Ray Edgar in the revised edition of Spray (and their remarks on the 2006 Arkley retrospective audio-guide), and Carnival 182; and for further details on Cave and his relationship with the visual arts (including Arkley and his circle), see also Keaney 2001 and James 2002.
In 2004, the painting was reproduced in a special Age magazine celebrating '150 Influential Lives', doubling as a tribute to both Arkley and Cave (Foley 2004). Later, it was one of five paintings released in limited edition reproduction prints by Kalli Rolfe Contemporary Art: for details, see 2011.
Arkley's archive contains an extensive corpus of source material, working drawings and work-in-progress photos. Study for Nick Cave (double sided drawing) (1999) [W/P] has been exhibited several times alongside the painting and selected source material.
Provenance
commissioned directly from the artist via Tolarno; purchased 1999, with funds provided by L.Gordon Darling AO CMG
Exhibited
Museum of Contemporary Art, Sydney, 3-6/01 ('Art > Music: Rock, Pop, Techno') (see Rees 2001)
National Portrait Gallery, Canberra, 12/01-2/02 ('So You Wanna Be a Rock Star'): shown with selected source material and drawings
Mornington Peninsula Regional Gallery, 8/02 ('Nick Cave: The Good Son'), also shown with source material etc.
HA retrospective 2006-7 (shown in all 3 venues)
Literature
Art Monthly Australia, April 1999 (cover ill.; and see Kerr 1999)
Art & Australia #37.1 (1999), 277 (ill.)
Gregory 2000: 28
Gaston 2001: 412-13 (inc.ill.)
Spray [rev. edn., 2001]: 141-3 (inc. ill.)
Keaney 2001 ('So You Wanna Be a Rock Star' exh.cat.), 14-18 (inc. ills.)
Rees 2001: 66-67
James 2002 (unpaginated)
Foley 2004: 19 (as cited above)
McCullough 2006: 791 (illustrating the entry on 'Portraiture in Australia')
Carnival 182 and Fig.6.35
NGVA Arkley audio-guide 2006 (comments by Ray Edgar and Ashley Crawford)
Chapman 2009