Waterfall 2 1988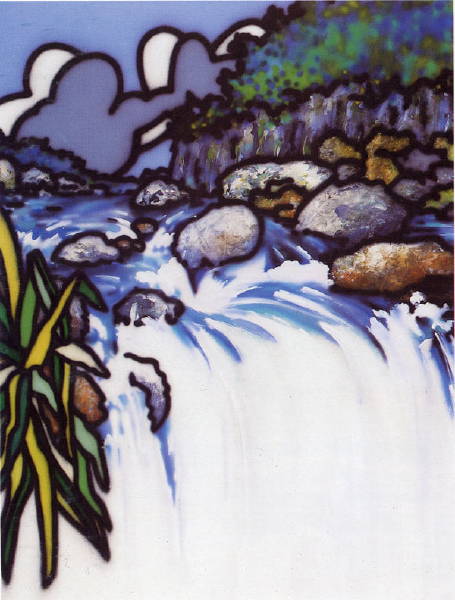 Synthetic polymer paint on canvas, 175.5 x 135.5
signed, dated and titled [on reverse]
Collection unknown [last auctioned Feb.2022]
This rare attempt by Arkley to address the natural world might be seen in one way as a spoof on the Australian landscape tradition from which his art is normally so clearly distinguishable.[1] Such subject-matter hardly suited his method or mentality; as he told Richard Brown in 1989 (possibly with the recent experience of painting this work in mind): 'The subjects that I choose are very impersonal… It's all about the Australian suppressed experience in the suburbs… It wouldn't be appropriate to go out and do rural landscape painting using this approach, I've tried and it doesn't work very well' (Brown 1989:39). A few years later, he said unequivocally: 'I never had any feel for the landscape…' (Gregory 1992, unpaginated).
Indeed, Alison Burton recalls Arkley's dissatisfaction with this particular painting. His studio collection contains a considerable quantity of preparatory material for it (sketches, modified source images, etc.), suggesting his struggle with the subject. Interestingly, despite the title, there is no apparent evidence of an extant version no.1; perhaps an earlier attempt was abandoned?
However, posterity has not judged this painting as harshly as the artist seems to have done. The by-play between graphic and 'painterly' passages is interesting, recalling several earlier works such as Tennis (1983) and Suburban Landscape 1987, and paralleling several other canvases dating from 1988, e.g. Stucco House (1988).
The painting was commissioned through Tolarno director Georges Mora, then a consultant for the National Australia Bank Collection. It was included in the NAB's 'Rivers in Australian Art' exhibition at Heide in 1991, and displayed in both the NAB's European offices, and also in Melbourne. In 2022, it was auctioned along with other works from the NAB collection, including Arkley's Stroke (1975): see Gellatly 2022. [2]
Provenance
Purchased for the National Australia Bank Collection in 1988
Auctioned by Deutscher and Hackett, Melb., 22 Feb.2022 (NAB Collection sale), lot 46: details and ill.as shown here; est.$100-150,000; sold for $564,545 (inc.buyer's premium)
Exhibited
Heide ('National Australia Bank Collection: Rivers in Australian Art'), 1991
Deutscher Fine Art, Melb. ('Australian Art: Colonial to Contemporary'), May-June 1995, cat.111 (ill.)
Literature
National Australia Bank Collection: Rivers in Australian Art (1991), p.16 (exh.cat.; ill.)
---
[1] Compare for example an Arthur Boyd waterfall auctioned by Christie's, Melb., 27/28 Nov. 2000, lot 132 (reproduced in the catalogue).
[2] Many thanks to both Felicity St John Moore, curator of the NAB collection from 1994, and subsequent curator Claire Marshall, for previous help in clarifying the history of Waterfall 2 (correspondence March-April 2009 and May 2012).