Triple Fronted 1987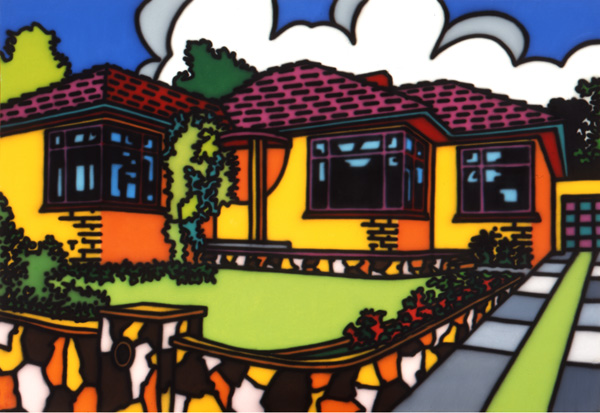 Synthetic polymer paint on canvas, 169.9 x 241.9 (x 5.5)
Signed, dated and titled [on reverse: 'Triple Fronted / 1987 / … Howard Arkley']
Art Gallery of New South Wales, Sydney [Mollie and Jim Gowing Bequest Fund 2014]
This canvas was first shown at Roslyn Oxley9 in Sydney in September 1987, and then the following year at Tolarno, in each case providing eloquent testimony to Arkley's emerging focus on the suburban theme.
Reviewing the 1988 Tolarno show in Agenda, Juliana Engberg commented that this 'epic' suburban image 'monumentalizes the everyday'. Subsequent opinion has reinforced that view of this iconic work. However, many later commentators seem to have missed Engberg's further, subtle point, that after viewing works like this, '… it is impossible to continue to consider the suburbs as dull pockets of frustration and stagnation, rather it must be said that through Howard Arkley we see suburbia as a place of colour, nuance and variety'.
After being purchased from the Tolarno exhibition, the painting remained in private hands in Melbourne until 2014, when it was acquired for the AGNSW. Late in 2014, it  was included in the major "Pop to Popism" exhibition in Sydney, where its lineage and context were illuminated by its being shown amongst various significant international and Australian examples of Pop and Pop-influenced art.
Notwithstanding previous indications of a date of 1988, the inscribed date has recently been confirmed to be 1987.[1] Accordingly, my own earlier suggestion, that two different works may have been shown in 1987 and 1988, should be disregarded (Carnival, p.196, n.74).
Arkley's studio material includes a copy of the real estate source, a black and white line drawing, which also served as the basis for the closely related works Family Home: Suburban Exterior (1993) and Untitled 1993 (screenprint) [W/P].
Provenance
Tolarno Galleries, 1988 (Arkley's 1988 list of sales records original purchaser and price of $8,500)
Private collection, Melbourne
Private collection, Melbourne
Acquired by the AGNSW in 2014 (details as above)
Exhibited
HA Roslyn Oxley9, 9/87, cat.2 (as 168 x 239)
HA Tolarno 8/88, cat.2 (as 166 x 240)
HA Monash 1991, cat.75 (as 166 x 240, dated 1988)
Spray: the Work of Howard Arkley, Tolarno 11/97 (acc.to Gould 11/13)
HA Gould Galleries, Melb., 11/13
Pop to Popism, AGNSW, Sydney, 1 Nov.2014 – 1 March 2015
Literature
Engberg, 'On the street where you live', 1988 (quoted above)
Spray 92 (ill.; dated 1988)
Carnival in Suburbia (2006), 81 (also dated 1988)
Tunnicliffe & Jaspers 2014 (Pop to Popism exh.cat.), 266-7
---
[1] Many thanks to the AGNSW, especially Wayne Tunnicliffe, Head Curator, Australian Art, and curatorial assistant Nick Yelverton, for clarifying these details, March-April 2014. The full inscription on the reverse of the canvas, in black fibre-tipped pen, runs as follows: 'Title: "Triple Fronted" / Date: 1987 / Size: 7'10" x 5'6" / Medium: Acrylic on canvas /  Howard Arkley [signature]'