Suburb: A 1988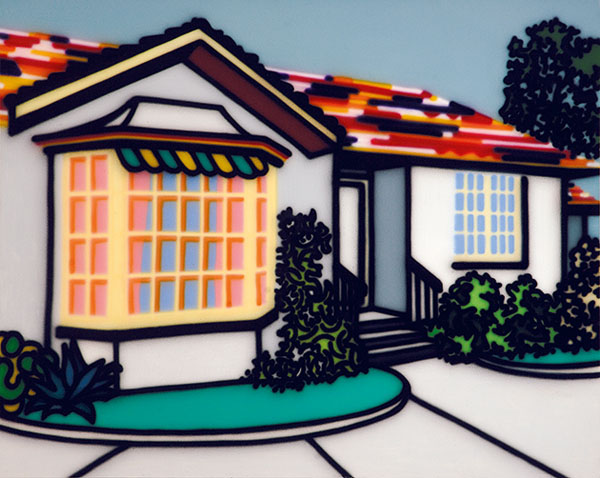 Alternate titles: (The) Bay Window and House and Garden
Synthetic polymer paint on canvas, 161 x 199.7
Signed & dated [on reverse]
Gift of Eva Besen and Marc Besen; TarraWarra Museum of Art collection
This painting was first shown and reproduced as Suburb: A – the title preferred here – although Arkley did not inscribe the canvas with a title, and a Tolarno label attached to the stretcher gives the title as 'House and Garden' (many thanks to Anthony Fitzpatrick of TarraWarra Museum of Art, for clarifying these details, and forwarding photographs of the verso inscriptions and label [correspondence, Oct.2015]).
The work was later reproduced in Spray as Bay Window, and has subsequently been exhibited at TarraWarra as The Bay Window.
The composition derives from the same real estate image as Brick Veneer with Feature Window 1988, but the colour scheme is interestingly muted, by comparison with many other works of this period. The treatment of the tiled roof is a tour de force of inter-related tones and linear patterning.
Provenance
Coll.Eva Besen & Marc Besen
Donated to TarraWarra Museum 2008 through the Cultural Gifts Program
Exhibited
Tolarno stall, ACAF1 (Australian Contemporary Art Fair), Melbourne, 7/88 (as Suburb: A; ill., size given as 169 x 199)
TarraWarra Museum of Art, 6 Aug.-2 Oct.2011 ('Boundary Line,' curated by Anthony Fitzpatrick): as The Bay Window
HA TarraWarra 12/15-2/16 (as The Bay Window; ill.)
Literature
ACAF 1 1988 exh.cat., p.15 (as Suburb: A; ill.)
Arkley, 'A Suburban Aesthetic' (1989): as Suburb: A (ill.)
Spray 89 (ill.: as Bay Window 1989; size given incorrectly as 175 x 250)
Heathcote & others 2008: 210 (ill.) [TarraWarra volume]