Shadow Factories (1988)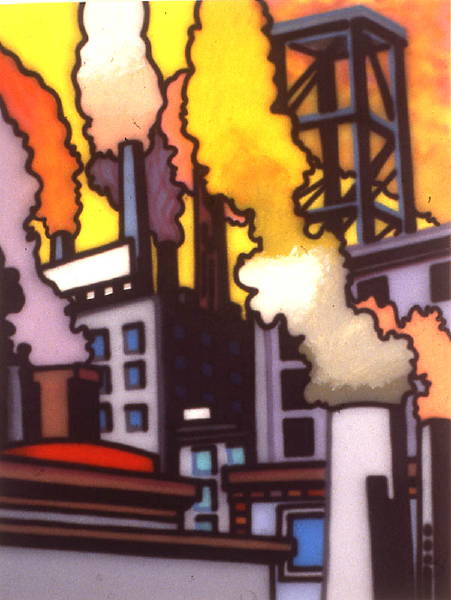 Synthetic polymer paint on canvas, 175 x 135
Collection of Sir James and Lady Cruthers, Perth
In their reviews of the 1988 Tolarno show, both Juliana Engberg and Robert Rooney singled out this work – the earliest of Arkley's factory canvases – for particular praise, Engberg describing it as 'a startling painting… of immense strength and comment'. For the Peter Carey story that inspired Arkley's several versions of this theme, see Spray 96-7 and Carnival 42ff.; various visual sources were also used to develop the imagery (again, see the discussion in Carnival, reproducing examples of source material).
Arkley later used a reproduction of this painting (from Brown 1989: 36) to produce a modified working drawing, Untitled [Shadow Factory collage] (c.1989-90?) [W/P].
NB the present canvas was not included in the 1995 'Downtown' exhibition at Heide, despite being reproduced in the catalogue for that show, but with details actually applying to the version that was shown there, Shadow Factories 1989.
Provenance
Purchased from Tolarno, 1988 (list of sales in Arkley's files records the original buyer and price of $6,000)
Exhibited
HA Tolarno 8/88, cat.9
HA TarraWarra 12/15-2/16 (details as above)
Literature
Engberg, 'On the Street where you live', 1988 (Tolarno exh.review; quoted above)
Rooney, 'Home on the range', 1988 (Tolarno exh.review)
Brown 1989: 36 (full-page ill.: as 'Shadow Factory')
Engberg 1995 ('Downtown' exh.cat.), p.27 (ill.: but with incorrect details: see comments above)
Carnival 42 (not illustrated)
Fitzpatrick & Lynn, Howard Arkley and Friends (2015), pp.133-34 (reproducing this work and source images from the Arkley Archive [State Library of Victoria])