'Howard Arkley: The Home Show', Venice Biennale, June-Nov.1999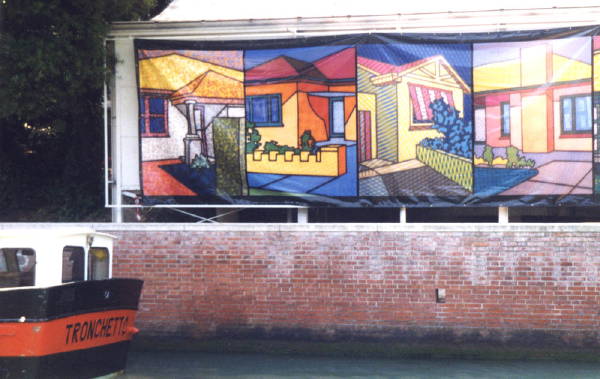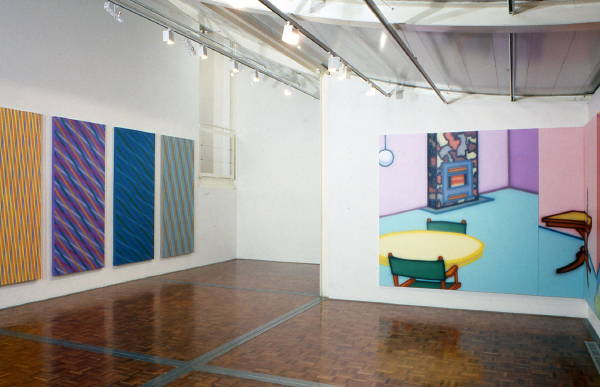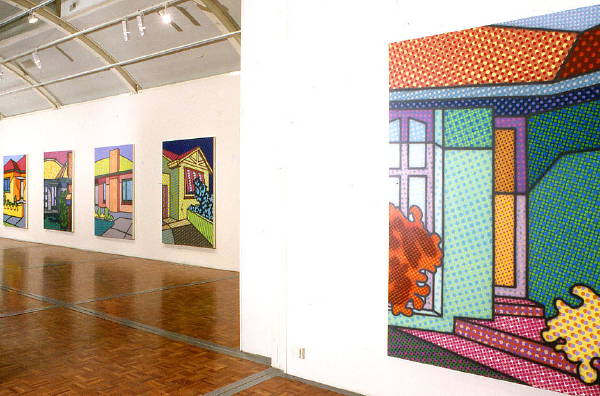 'Howard Arkley: The Home Show' (48th Venice Biennale, Australian Pavilion), 13 June-7 November 1999
[photos: promotional banners on the canal side of the Australian Pavilion; elements of Outside-Inside-Out and Fabricated Rooms as shown in Venice; view of the opening section of the Venice installation, with Mosaic Entrance 1994 to the right [source: archive slides])
This exhibition, Australia's official presentation at the 1999 Biennale, generated widespread attention, even before Arkley's sudden death – barely a month after the show opened. All the works included had already been seen previously, although four new panels were added to the original 1997 form of Fabricated Rooms.
In conception and design, the show was the culmination of Arkley's suburban enterprise, fulfilling a long-standing ambition to transform an entire exhibition into a stylized simulacrum of an Australian suburb – an idea already clearly signalled in his planning notes in 1986.[1]
On the entrance level of Philip Cox's 1988 Australian pavilion, nine of Arkley's house exteriors (including six of the 'Pointillist Suburb' series of 1994) were arranged to form a 'Residential Subdivision'.
On the lower level beyond, the viewer was presented with the monumentalised domestic interior imagery of six panels from Outside-Inside-Out, and Fabricated Rooms, now treated expansively on 17 canvases with a total width of almost 20 metres.[2]
During the previous decade, Arkley had appropriated and parodied numerous real estate and home decorating titles and phrases, both in the titles of individual works ('Superb + Solid', and so on), and whole shows (notably 'Mix 'n Match', 1992). The title of his Venice exhibition (also used again for his 1999 Los Angeles show) may have been an explicit reference to a popular Australian TV series from the early 1990s – also called 'The Home Show' – hosted by Maggie Tabberer and Richard Zachariah, a local celebrity couple of the day, and subsequently issued as a book.[3] In their own 1990s version of the type of home decorating advice given in the previous era by Frances Joslin Gold and many others (see now Gold's Instant Decorator), they provided tips on everything from colour selection to gardening. So, far from simply trading in outmoded paradigms – a simplistic view still held by some analysts of Arkley's suburban project – he was engaging with an approach widespread in the 1990s, and still today, in lifestyle TV programs, decorator magazines and books.[4] The key issue, as always, remains the tone of Arkley's approach to this material.
***
The Venice Arkley catalogue includes substantial essays by Italian critic Marco Livingstone, and Tim Morrell, the show's curator. Livingstone situated Arkley's art in relation to the work of David Hockney, James Rosenquist and other British and American Pop artists, and also observed that Arkley's suburban theme, while identifiably Australian, had global resonance. Morrell, curator of Australian art at the Queensland Art Gallery, located Arkley's work within the wider tradition of Australian culture, including landscape painting.[5] Arkley himself spoke engagingly on these themes in various media interviews conducted in Venice (for details, refer Bibliography under 1999, also including significant mention of Arkley in reviews of the Biennale: e.g. Vetrocq 1999, pp.89-90).
International recognition of his work soared as a result of the show. Some commentators noted familiar parallels (Patrick Caulfield, Roy Lichtenstein, etc.), but many were also impressed by the vivid energy and Antipodean character of the work. By general consensus, the show was one of the highlights of the 1999 Biennale.
Works shown were as follows (in the sequence listed in the catalogue):
Fabricated Rooms (1997-99) (1999 version: 17 panels)
Outside-Inside-Out 1995: 6 panels (dated 1996 in the Venice catalogue)
Theatrical Facade (1996) [Canberra]
---
[1] Visual Diary D 17 (1985), quoted and discussed in Carnival 118; the exhibition of the original version of Fabricated Rooms, together with the 'Sampling' series, Tolarno 11/98, hints at the final Venice variant.
[2] The exhibition (commissioned for the Australia Council by Ron Radford, later appointed director of the National Gallery of Australia, and designed and managed by Global Art Projects) is given detailed attention in the new chapter added to the revised edition of Spray in 2001 (pp.130-33).
[3] See Maggie Tabberer and Richard Zachariah, The Home Show: a Practical Guide to Creating, Decorating, Maintaining and Changing Your Home – and Loving It! Sydney: Australian Broadcasting Commission, 1991. This practical guide contains various passages uncannily reminiscent of Arkley's own aesthetic, for instance in the discussion of 'eclectic' patterning as hard to pull off successfully (p.67).
[4] Arkley's suburban and domestic source material was by no means restricted to 1950s and 60s magazines, as is sometimes suggested; he also owned various 1990s magazines and books on the topic.
[5] See Livingstone & Morrell (1999); Livingstone, who had previously published several major studies of Pop, including Pop Art: a Continuing History, New York: Abrams, 1990, and Allen Jones: Sheer Magic, London: Thames & Hudson, 1979 (both in Arkley's library), later wrote the entry on Arkley for Grove Art online (2001).