'Howard Arkley: Casual Works', 1988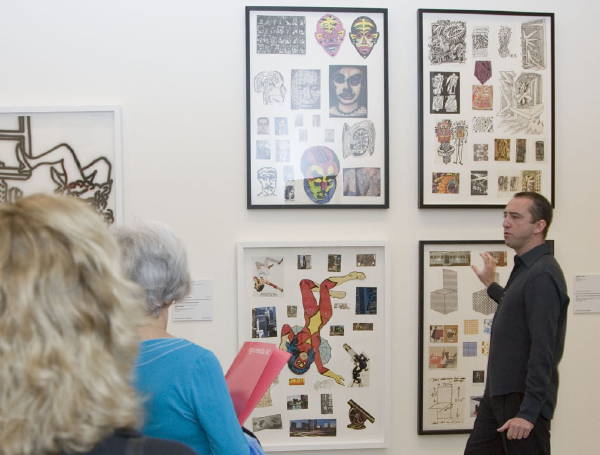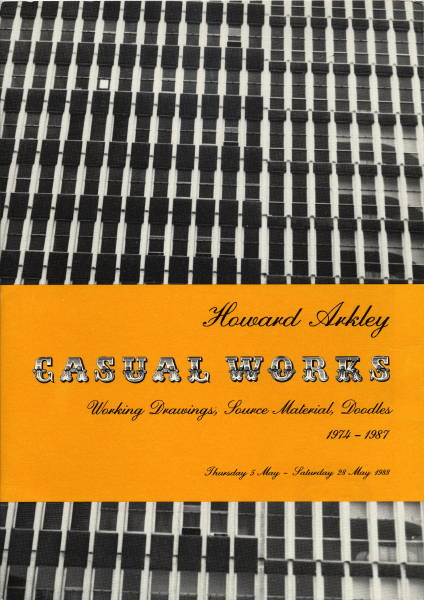 'Howard Arkley – Casual Works: Working Drawings, Source Material, Doodles 1974-1987', 200 Gertrude Street, Fitzroy, 5-28 May 1988; and Institute of Modern Art, Brisbane, 6-29 Oct.1988.
(photos: above: curator Jason Smith speaking at the NGVA Arkley retrospective, Nov.2006, with the work on paper and source material for Suicide, and other source collections listed below [photo by Narelle Wilson, courtesy NGV]; below: exhibition catalogue cover)
This ambitious and inventive exhibition involved Arkley's auto-survey of his own career to date, through a series of black and white sprayed work-on-paper recreations of key compositions, shown with selected examples of related 'source material' and minor works on paper.
He worked on this show obsessively during 1987 and early 1988, initially envisaging it as a 'wallpaper show' (see discussion and quotes from Arkley's diaries in Carnival 130), later settling on the final format. An undated list of titles on a business-size envelope in Arkley's files suggests a near-to-final list of themes.[1]
The catalogue (cover reproduced here, featuring a photo of Monash University's Menzies Building, one of the source images included in Pattern Painting; and source material (1988 and earlier) [W/P]), included insightful essays by Virginia Trioli and Richard Brown on the artist's working method.
However, in a searching review in the inaugural issue of Agenda magazine (June 1988), Juliana Engberg challenged the idea – prominent in the artist's own exhibition title and Trioli's essay – that Arkley's method was 'casual'. Instead, Engberg argued, the show demonstrated that his work was 'informed by the most galvanized sense of artistic self-awareness' (p.31). For further analysis of these issues in relation to this exhibition, see Spray 84-87 and Carnival 111-2 (arguing that Arkley's approach constituted a form of bricolage).
In her review, a brilliant example of the genre, Engberg also expressed some qualms about the backward-looking character of the exhibition, which she felt was 'strangely lacking in the momentum I understand to be inextricably linked to Arkley's project'. 'Arkley's work is rich, dense, sophisticated, and survives even in the shadows of the past', she explained, and then continued, in a prescient observation: 'But I am lured by the promise of new work based on suburban-scapes and sky scrapers where the complex Arkley will re-form.' In fact, this promise was realised only months after the Melbourne showing of 'Casual Works', with 'Howard Arkley: Recent Paintings – Houses and Homes', Tolarno, Aug.-Sept.1988.
In retrospect, 'Casual Works' provided the strongest indication to date of the degree to which the repetition of his own compositions fed Arkley's creative imagination, throughout his career – for better or worse (as Engberg wrote, in a complex critical aside, 'Life in the age of the "second degree" becomes shadowy and evaporative').
In both venues, the 1988 installation took the form of a series of large black-and-white air-brushed works on paper on 2 sheets (c.172 x 122 cm overall), exhibited in each case between a selection of source images and smaller works taped to the wall. The 2006-7 Arkley retrospective included several of these sets of source material (installation shot reproduced above).
Unfortunately, the 1988 catalogue lacks a check-list, necessitating reconstruction of several of the original works and their format through installation photos and other records, including Arkley's planning notes. Richard Stringer took a comprehensive set of installation photos (Arkley's file copies of some examples are reproduced here), which are valuable for identifications.
The following list represents a working summary of the works shown; several details remain hazy at this stage.
1.      Tudor House; and source material (1988 and earlier) [W/P]
Richard Brown's catalogue essay provides the title. This work and its components may have been disassembled after the 1988 exhibitions.
2.      Chair Tableau with Muzak Mural; and source material (1988 and earlier) [W/P]
Both the main work on paper and the collected source material are held in the National Gallery of Victoria.
3.      Zappo; and source material (1988 and earlier) [W/P]
Both components were acquired by the Queensland Art Gallery in 1989.
4.      Paisley; and source material (1988 and earlier) [W/P]
Again, Brown's catalogue essay suggests this title (as does the review by Engberg 1988), but the sole extant installation photograph (from the IMA show) is indistinct, and the present whereabouts of the components are unknown.
5.      Tattooed Head; and source material (1988 and earlier) [W/P]
Both components were acquired by the National Gallery of Victoria in 1989 (apart form a few minor components still in Arkley's archive: see catalogue entry for details).
6.      Untitled ['Cacti-Succulents']; and source material (1988 and earlier) [W/P]
Again the only source is the Brisbane installation photos (example above), showing show a central work on paper whose composition is closely comparable with that of Discocacti (1986), and various other smaller cacti at the sides.
7.      Untitled ['Doodle-bug'?]; and source material (1988 and earlier) [W/P]
The central composition, again identifiable in the Brisbane installation photos, reprises a characteristic work on paper shown in 1985: Untitled [Hobart] (1984) [W/P]. It is impossible to be certain from the photos what associated 'source material' was shown in 1988.
8.      Pattern Painting; and source material (1988 and earlier) [W/P]
The title is indicated in Arkley's Gertrude Street installation slides. The central image (whereabouts unknown) is only indistinctly visible in the IMA installation photos, but apparently used a pattern similar to Arkley's door-format canvas Arrows and Crosses 1980. The subsidiary images (now dispersed?) included various patterned works and sources.
9.      Untitled ['White Painting']; and source material (1988 and earlier) [W/P]
A Brisbane installation photo – again, the sole source – suggests that the central composition was similar to Arkley's characteristic 'white' painting Winter Notations 1975. It is impossible to make out the associated source material in the Brisbane photo.
10.   Suicide; and source material (1988 and earlier) [W/P]
Both components were acquired by the Art Gallery of Western Australia in 1989.
---
[1]
1. Tudor houses; 2.Doodle-bug; 3. Fast – Zappo; 4. Tattooed – head; 5. Cacti – succulents; 6. Suicide; 7. White painting circle; 8. White painting 2 lines; 9 Psychedelic; 10. Chairs; 11.Patterned dots