Home, Eastern Suburbs (1988)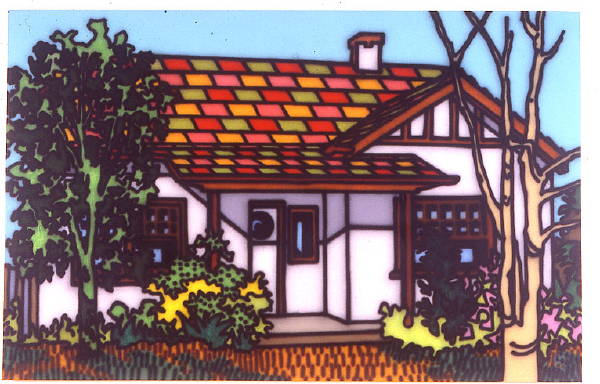 Synthetic polymer paint on canvas, 151 x 238
Collection of Naomi Milgrom AO

This canvas contrasted with several of the other suburban images on display in Arkley's 'Houses & Homes' show at Tolarno in 1988. Its leafiness implies an established home of the kind typical of Melbourne's older suburbs: contrast e.g. Contemporary Units (1988). It is also on the same scale as Family Home (1988).
The artist arrived at his eventual choice of colour and patterning in a series of working drawings over photocopies of the source composition, preserved in the Arkley archive (SLV MS 14217/1/1029-31, reproduced in Fitzpatrick & Lynn 2015, p.113).
The juxtaposition of the right foreground gum tree against the house prefigures the 'House with Native Tree' motif Arkley developed in depth in 1996ff.
Provenance
Purchased from Tolarno, 1988 (Arkley's list of sales records the original buyer and price of $8,500)
Exhibited
HA Tolarno 8/88, cat.6
HA TarraWarra 12/15-2/16 (details as above)
Literature
Rooney, 'Home on the range', 1988 (Tolarno exh. review; inc. B&W ill.)
Fitzpatrick & Lynn, Howard Arkley and Friends (2015), pp.113 and 115 (reproducing this work and preparatory drawings from Arkley's archive)