Hedge on Street Corner 1988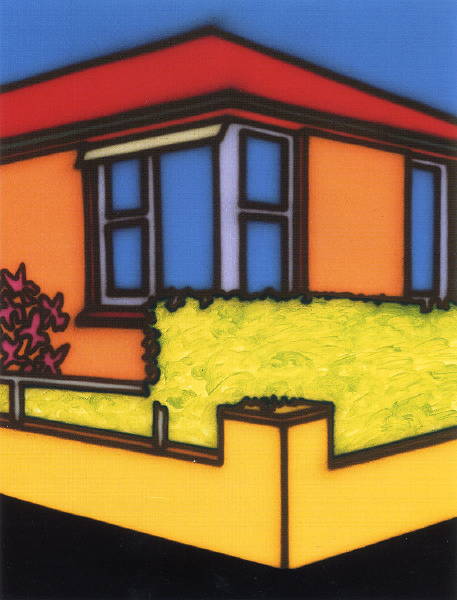 Synthetic polymer paint on canvas, 175.5 x 135
signed, dated and titled [on reverse: 'Howard ARKLEY / Hedge on Street Corner / 1988 / Howard Arkley 88']
Coll.: unknown
In this exemplary, excellently-credentialed late 80s suburban painting, the vigorous paint-work in the area of the hedge contrasts with the flat, graphic quality of the rest of the canvas.
The work was included in Arkley's 'Houses and Homes' exhibition at Tolarno in 1988, where it was bought by Melbourne architect Randall Marsh. It was subsequently purchased for the prestigious BP Collection of Australian Contemporary Art, where it remained until that collection was disassembled in 2002. The painting has since passed through several hands, and was auctioned most recently in November 2011.
When exhibited prior to the BP Collection auction in 2002, the canvas showed some minor damage, notably a tear in the area of the left foreground fence. However, this had been repaired, by the time of the 2011 auction, when the work appeared to be in excellent general condition.
Untitled [Hedge] (1988) (in the MCA Collection in Sydney) is a contemporary variant, and Corner House with Hedge 1989 is a larger work based on the same source. Arkley re-deployed the same composition again in the 1990s, in a cooler mode, for both Indoors-Outdoors (1994) and Corner House 1994.
Provenance
Purchased from Tolarno in 1988 by Randall Marsh, Melbourne (Arkley's list of sales for 1988 records the original buyer and price of $6,000)
BP collection (advice of Karyn Lovegrove?)
Auctioned by Sotheby's, Melb., 8 Sept.2002 (BP Coll.sale), lot 10 (ill.; details as above; sold for $75,700 inc.buyer's premium)
Gould Galleries, Melbourne
Private collection, Sydney
Private collection, Melbourne
Auctioned by Sotheby's, Melb., 22 Nov.2011, lot 42 (ill., details as above); est.$160-190,000; sold for $160,000 ($192,000 with buyer's premium)
Exhibited
HA Tolarno 8/88, cat.7
Deutscher Fine Art, Melbourne, 8-24 Oct.1992 ('A Special Selection of Nineteenth and Twentieth Century Australian Art'), cat.81 (as cited by Hansen 2011)
Literature
Spray 127 (ill.: citing incorrect title and size as House on Street Corner, 166 x 240)
Hansen 2011 (Sotheby's auction catalogue entry)