1987 Works on paper (minor)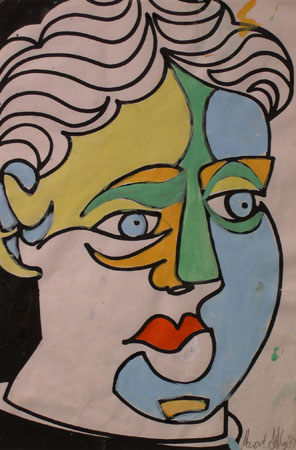 Other working drawings from 1987 include the four preparatory studies for Ever Feel Like Drowning 1987, each approx.35 x 25, reproduced in Spray 68 (as in the artist's collection): these are typical working drawings, incorporating collaged elements.
The first known coloured photocopies by Arkley – usually around A4 size – also date from 1987. Examples include three variations of his 'Picasso Head' composition (one reproduced here), all signed and dated 1987, which first appeared at auction in 2004; all three were later owned and framed together by Art Nomad and then sold to a private collector.[1] All three sheets include passages of colour closely resembling Picasso Head 1990, suggesting that the artist sometimes used pages like this to test colour ratios for his major works.
The same point applies to a number of Arkley's coloured photocopies of suburban houses, the earliest of which also seem to date from 1986-7. Evidence of the artist's method of using them is provided by the set of six sheets (reproduced in Carnival Fig.1.10) in which he trialled different colour combinations and minor compositional variations for Bungalow Home 1987.[2] Four examples of suburban house compositions, each signed and dated 1987, were included in HA Monash 1991, cat.59 (as in a private collection), but there are no file photographs to indicate exactly which works these were.
As noted, some of these photocopy works, which Arkley continued to produce in the late 80s and during the 90s, are interesting in relation to his working method, colour choices etc. Although few of them could be considered substantial or significant in their own right, a number were circulating prior to the artist's death, and examples have appeared regularly since, sometimes attracting surprisingly high prices at auction. For instance, one example, signed and dated 1987, based on the same source used for Hedge on Street Corner (1988), was auctioned by Christie's, Sydney, 13 Aug. 2000, lot 1 (as 'Suburban House'), fetching over $8,000 (including buyer's premium) – a clear instance of the art market spike following Arkley's death.
See also no.25 in the series of Arkley's Sketchbooks, a recycled international phone dialling booklet with added Arkley doodles (mostly stylized skulls), dated 1987; and Visual Diaries D 18 (1986-7?), D 19 (1987ff.) and D 20 (also 1987ff.).
---
[1] Stanley's auction, Sydney, 24 Oct.2004, lots 141-3 (as 'Picasso Head (Beige)', 'Picasso Head (Purple)' and 'Picasso Head (Green)' respectively); lot 143 is reproduced here. Two of these sheets subsequently reappeared at auction with Deutscher-Menzies, Melb., 21-22 Sept.2005, lots 364-5 (not illustrated). For a reproduction of all 3 works framed together, see http://www.artnomad.com.au/artworks/artwork.cfm?id=50278 (with thanks to Peter Anderson for this information, emailed Feb.2018).
[2] One of these works, signed and dated 1987, was auctioned by Deutscher-Menzies, Melb., 28 Nov.2003, lot 54 (as 'Californian Bungalow').