Strange Fruit 1987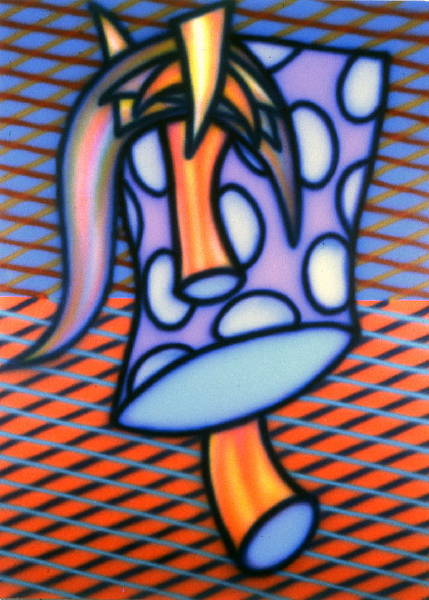 Synthetic polymer paint on canvas, 160 x 120
Signed, dated and titled [on reverse]
Private collection, Brisbane
The work reproduced here was first shown at the Bellas Gallery (Brisbane) in June 1987, with this title (see also archive slide, labelled with this title).
Later in the year, as installation photos in Arkley's archive demonstrate, it appeared in his solo show at Roslyn Oxley9, Sydney (Sept.1987), but possibly under a different title: see separate comments on that exhibition, and catalogue entry on Physiognomy 1987, with which this work has been confused (e.g. in Spray 76).
The title 'Strange Fruit' derives from a song made famous by Billie Holiday (as noted in Spray 77 and Carnival 169). See also Strange Fruit (1987) [W/P], a work-on-paper variant of this composition.
Provenance
Unknown (possibly purchased at the Bellas exhibition, 1987)
Purchased by present owner from Bellas Gallery, Brisbane, 1999
Exhibited
HA Bellas, Brisbane, 6/87 (i), cat.4 (as 1200 x 1600 mm; $5,500)
HA Roslyn Oxley9, 9/87, cat.7 (?)
HA Anima Gallery, Adelaide, 10/87, cat.5 (as 160 x 122; $4,000)
HA retrospective 2006-7 (Melbourne & Brisbane; details as above)
HA TarraWarra 12/15-2/16 (details as above; ill.)
Literature
Spray 76-77
Carnival 169 and Fig.6.13