O.Y.O. Flats 1987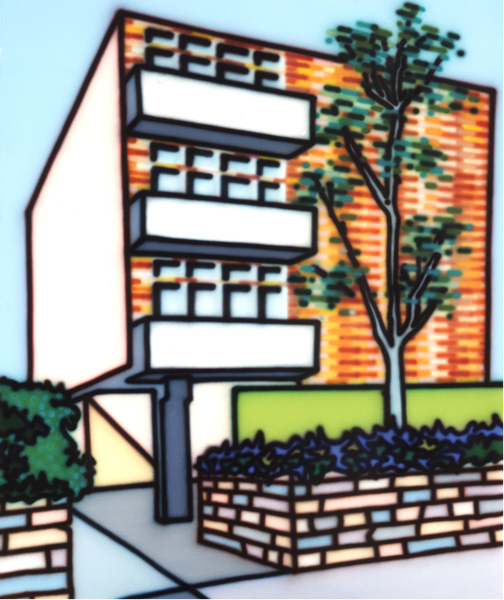 Synthetic polymer paint on canvas, 198 x 168
Signed, dated and titled [on reverse]
Corporate collection, courtesy of Gould Galleries, Melbourne
This painting, first exhibited in Arkley's solo show at the Roslyn Oxley9 gallery in Sydney, Sept.1987, is the earliest version of this composition, later reprised (with variations) as Modern O.Y.O. Flats (1988) and Urban Apartments (1999): see now comparative discussion in Carnival 80-85.
This canvas received considerable publicity when it was auctioned by Sotheby's in 1994, featuring on the auction invitation and catalogue cover, and in press coverage (see e.g. Trioli 1994).
The source was a real estate image of a block of flats in North Carlton; he knowingly retained and in fact accentuated the awkwardness of the perspective construction of the source image here. For reproductions of the real estate source and a modified working drawing, both in Arkley's archive (SLV MS 14217/1/1024-5), see Fitzpatrick & Lynn (2015), p.112.
Provenance
Coll. Henry Gillespie
Auctioned by Sotheby's, Melb., 2 Oct.1994, lot 148 (est.$6-10,000; date given incorrectly as 1988)
Collection of Geoffrey Smith, Melbourne (noted thus in Downtown catalogue, 1995)
Private collection, Melbourne
Corporate collection
Exhibited
HA Roslyn Oxley9, 9/87, cat.3
Newcastle Invitation Art Prize, Newcastle Art Gallery, N.S.W., 2/88
'Downtown', Heide, 5/95 (as coll. Geoffrey Smith)
HA Gould Galleries, Melb., 11/13 (as private collection; ill.)
HA TarraWarra 12/15-2/16 (details as above)
Literature
Trioli 1994 (inc. B&W ill.)
Gibson 1995: 21 (review of 'Downtown'): ill.
Spray 126 (full-page ill.)
Carnival 80-85 (comparing the different versions of this composition) and Fig.2.30 (full-page ill.)
Fitzpatrick & Lynn, Howard Arkley and Friends (2015), pp.112 (sources) and 114 (ill.)