Ever Feel Like Drowning 1987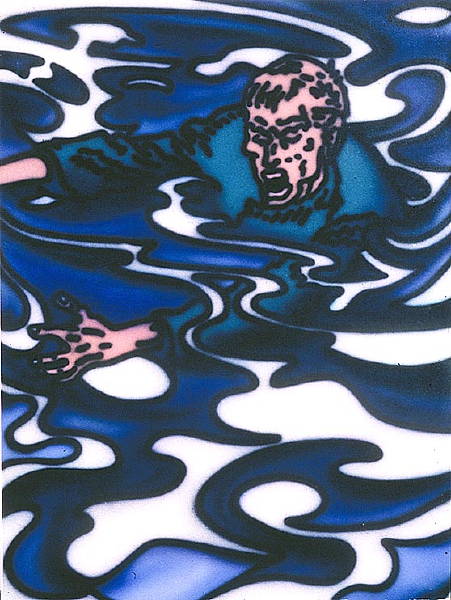 Synthetic polymer paint on canvas, 160 x 120
signed, dated and titled [on reverse: 'Ever feel like drowning' / Howard Arkley / 87]
Private collection, Melbourne
First shown in Arkley's solo show at the Anima Gallery, Adelaide, in October 1987. Various sources were combined to generate this image, including a cartoon-style story in a 1950s Adventure Annual in Arkley's library, and magazine images collaged by the artist into several working drawings (reproduced in Spray 68). Arkley also produced a monochrome work-on-paper version: Ever Feel Like Drowning (1987) [W/P].
Provenance
Recorded as in Melb. P/C in planning notes for HA Monash 1991 and the 2006-7 HA retrospective
Exhibited
HA Anima Gallery, Adelaide, 10/87, cat.7 (as 160 x 122; $4,000)
HA Monash 1991, cat.61 (details as above; size noted as 120 x 160)
Monash Uni. Gallery, 3/00 ('The Persistence of Pop'): as on loan to Monash from P/C Melb.
Literature
Spray 67-8 (reproducing a series of working drawings)