Bungalow Home 1987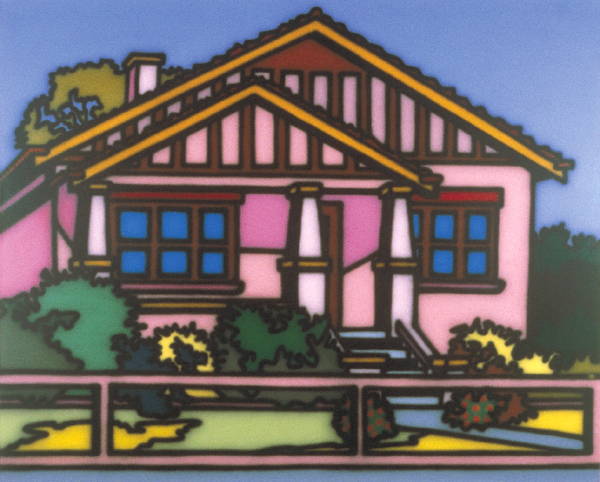 Synthetic polymer paint on canvas, 160 x 198
signed, dated and titled [on reverse: 'H Arkley 87 / Bungalow Home']
Coll.: unknown
This highly characteristic canvas, first shown in Arkley's solo show at Roslyn Oxley9, Sydney, in Sept.1987, depicts a 'Californian Bungalow' of the type found in many Melbourne suburbs: for further comments, see the essay by John McPhee in the Christie's 2000 auction catalogue.
Arkley's archive contains the real estate source (identifying the house as in the Melbourne suburb of Caulfield: reproduced in Carnival Fig.1.6), and a photo of a set of working drawings testing different colour combinations (also in Carnival, Fig.1.10).
Provenance
Listed as in a private collection in Spray research card c.1996[1]
Auctioned by Sotheby's, Melb., 16 June 1991 (ill.; sold for $6,500 = $7,150 inc. buyer's premium)
Auctioned by Christie's, Melb., 27-28 Nov.2000, lot 23 (ill.; details as above; sold for $174,500 inc. premium)
Exhibited
HA Roslyn Oxley9, 9/87, cat.1
Tolarno 11/97 ('Spray' exh.), cat.13 (acc.to Christie's
Literature
John McPhee essay in Christie's Nov.2000 auction cat. as cited above
Carnival 20-21 and Fig.1.7
---
[1]
This may be erroneous, due to confusion in the
Spray
research records (copy in Arkley's archive) between this work and
Home Eastern Suburbs
(1988)
.