After Durer's illustrations, Treatise on Measurement (1525) (1987)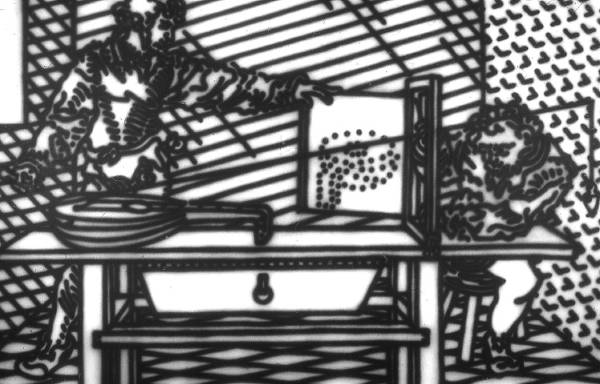 Synthetic polymer paint on canvas, 150 x 240 
Coll.: unknown
This diagrammatic canvas was included in the 1987 group show 'What is this Thing Called Science' at the University of Melbourne Gallery, and  documented by a slide taken at the time for the Monash Visual Arts slide library. As the title indicates, the composition is based on an Albrecht Dürer woodcut illustrating the theory and practice of perspective (1525).
Arkley's modified variant of the original woodcut, a similarly titled working drawing, After Durer's illustrations, Treatise on Measurement (1525) 1987 [W/P], was reproduced in the catalogue of the Melbourne University exhibition. It incorporates Arkley's own monogram and date alongside Dürer's famous 'AD'.
For Arkley's general interest in Dürer, especially his line-work, see Carnival in Suburbia (2006), 94, mentioning this work in the context of a discussion of Cartographer (after Durer) 1983. His studio library contained several publications on the German artist.
Provenance
Exhibited
Melb. Uni. Gallery, Dec.1987 ('What is this Thing Called Science'), cat.no.2 (as courtesy Tolarno Galleries)
Literature
Cass 1987, 14, and cat.no.2
Brown, Tension 13 (June 1988): 35 (reproducing this painting, incorrectly described as a 'working drawing')
Carnival in Suburbia, 94