1983 Works on paper (minor)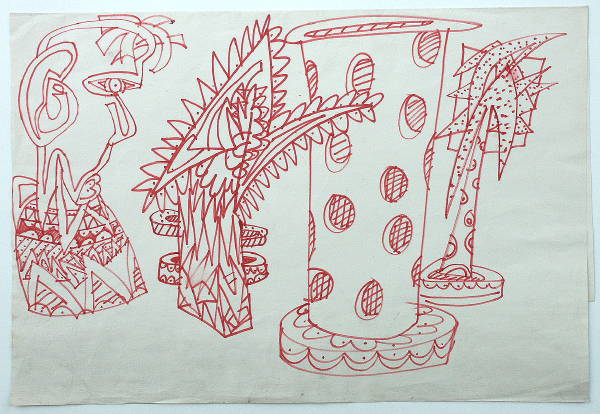 Numerous other works on paper, doodles etc. also date from 1983 or thereabouts. Most are unpublished, and a considerable number remained in the artist's collection at his death. The example reproduced here, although undated, sits comfortably with other works dating from 1983; on the reverse is a cartoon-style figure possibly produced in a life drawing class.
See also no.18 (1983) in the artist's sequence of Sketchbooks, a small notebook containing a series of pages with doodles over found photos (example reproduced in Carnival Fig.3.7). Likewise, Visual Diaries no.D 14, dated Jan.1983, contains extensive planning notes and lists of titles related to Arkley's oeuvre in and around this period; also pasted into this diary is Arkley's first tentative note for a 'major piece / suburban living', later developed as Fabricated Rooms (1997-99): for detailed discussion in relation to subsequent diary entries, and James Rosenquist's F-111, also mentioned in this note, see Carnival 32, 35 and 118.
(photo: undated page of sketches in red fibre-tipped pen, c.1983? [Arkley archive])