Untitled ('Exquisite Corpse') [1-4] (1984) [W/P] [Howard Arkley, Juan Davila, Maria Kozic]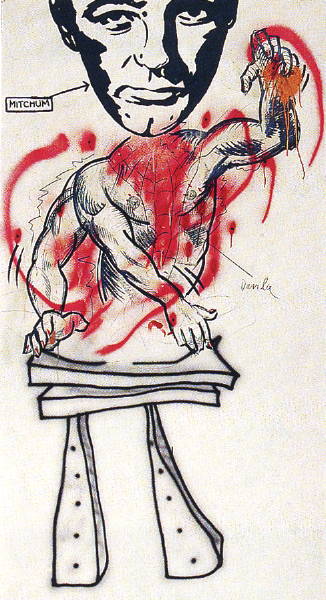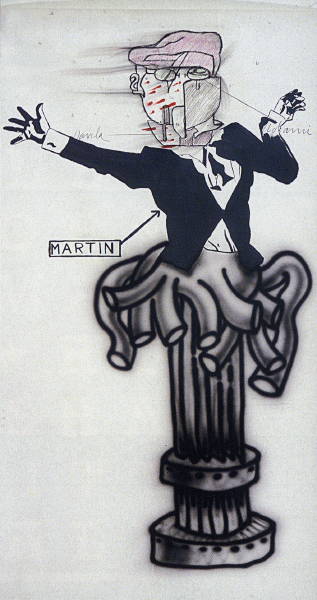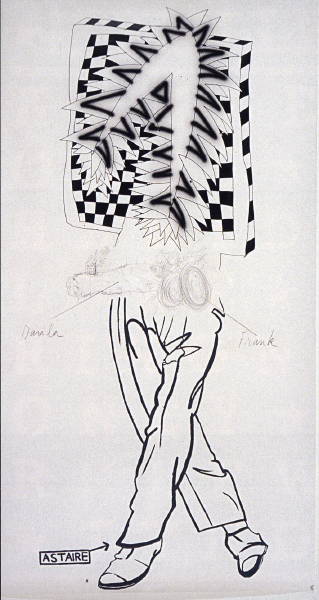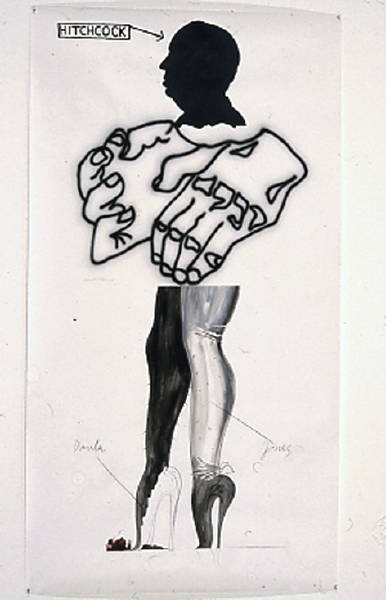 Synthetic polymer paint and collage on paper, 232 x 127 (nos.1-3) [according to Roslyn Oxley9/George Paton Gallery]; 248 x 127 (no.4) [according to Spray]
Coll.: unknown
This was Arkley's first substantial collaborative project, preceding his subsequent cooperative ventures with Davila in particular (see Carnival 139ff.). The four over-life-size figures (reproduced in sequence at left, from the bottom up) were curated and commissioned by George Paton Gallery director Denise Robinson, and shown as a group in May-June 1984, in the gallery's foyer window space.
The idea was to emulate and elaborate on the Surrealist visual 'game' known as 'Exquisite Corpse', in which individual artists contributed their components without reference to the others involved. As Robinson recalled recently, in the volume dedicated to the history of the Ewing and George Paton Galleries, the collaborative project aimed to revisit the Surrealist concept in a 1980s spirit, 'confounding and displacing authorship' (Vivian 2008: 94).
The authors of Spray are unimpressed by the venture: 'Unfortunately, like many of the original 'exquisite corpse' experiments executed by the Surrealists, the quality of the work was uneven' (Spray 77). Indeed, Arkley's contributions are singled out for particular criticism in Spray: 'it became apparent that the weakest links in the works were the doodle bases'. However, with respect, these comments are neither accurate, nor particularly well considered. Arkley's contributions were not all cactoid in form, and not always the 'bases'.  And Arkley's Surrealist roots (see now Carnival 161ff.) made him as open to the project as the other participants; in fact, he had already made his own variant of the 'exquisite corpse' in the 'Tattooed' series of 1983. The wooden-stool base Arkley contributed to no.4 in the series (reproduced at upper left) appears to refer directly to one of the Surrealist originals.[1]
In a recent survey of Arkley and Davila's collaborative history, Georgia Jones (2012) observes that the two artists' contributions to this 1984 project, for all their contrasting styles, display a similar intuitive and spontaneous character, reflecting their shared interest in revisiting Surrealism. Jones also makes stimulating comments about these works as precursors of Arkley and Davila's subsequent collaborations.
Sheet no.4 surfaced at auction late in 2012; when viewed prior to the auction (Melbourne viewing, Nov.2012), it appeared to be in reasonably good condition.
Provenance
commissioned for George Paton Gallery 1984 by Denise Robinson and the student union, University of Melbourne (as noted by Denise Robinson, email correspondence, Sept.2010)
subsequent history of nos.1-3 unknown
no.4 auctioned by Menzies, Sydney, 6 Dec.2012, lot 117 (details and ill. as above; also noting previous provenance as Niagara Galleries, Melbourne ['label attached verso'] and P/C Melbourne; est.$20-25,000)
Exhibited
George Paton Gallery, Melb. Uni., 5/84 (nos.1-4)
'1968-1988 Selected Works', Roslyn Oxley9, 1/88, cat.1 (nos.1-3)
Literature
Roslyn Oxley9 1988 exh.cat.: cover ill. (no.1)
Spray 77 (and ill. of no.4)
Carnival 140 and 149
Vivian 2008: 83 (ill.: nos.1-3)
Jones 2012: 15-16
---
[1]
Salvador Dali & (?) Pablo Picasso:
Three Bathers, II, 'Exquisite Corpse'
, etching and pencil (Paris, Musée Picasso, 1935): reproduced in
Picasso and his Collection
, Brisbane: Queensland Art Gallery, 2008, p.211.