'Portrait of the Artist and Five Friends' project (1984  and later) [3/M]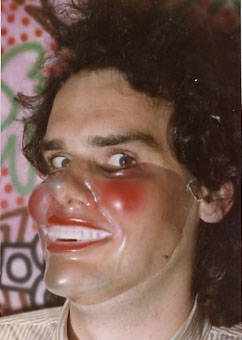 Photographs, some collaged, drawn or painted
Coll.: Arkley archive
Arkley sketched out the idea for this project, originally planned for exhibition in 1985, in Visual Diary D 16 (1984), making detailed notes about the people he imagined would be involved (including Tony Clark, Elizabeth Gower, Geoff Lowe, John Nixon, Peter Tyndall, Jenny Watson, and Arkley himself), and how they would be depicted: pulling faces, in masks, etc. For a lengthy quote from these notes, and reproductions of some examples, see Carnival 172 and Fig.6.22 (and Spray 72).
The photo reproduced here is another example from Arkley's archive, showing Geoff Lowe in a mask, c.1984-5. Photographs in similar mode of Vivienne Shark Le Witt and others also appear in Arkley's archive, suggesting that other artists figured in his plans as the project developed.
The idea obviously still interested Arkley in 1989, when he described it to Richard Brown (reference cited below), suggesting that the show would take the form of about ten large paintings.
Provenance
(photos in artist's collection)
Literature
Brown 1989: 39 (quoting Arkley: see comments above)
Spray 72 (inc. B&W reproductions of photos of Tony Clark and John Nixon)
Carnival 172-4 and Fig. 6.22 (selected examples showing Arkley, Clark and Nixon)